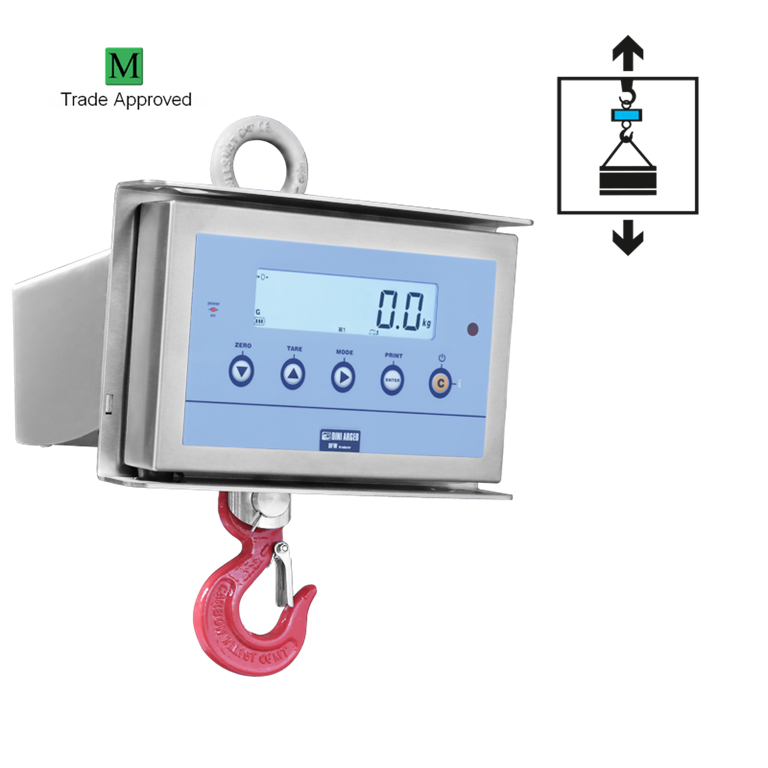 {"sku":"MCW300MR2-1","name":"Dini Argeo MCW300MR2-1 Crane Scale (300kg x 0.1kg) Trade Approved","price":"1,464.00","qty":0,"category1":"","category2":""}
Dini Argeo MCW300MR2-1 Crane Scale (300kg x 0.1kg) Trade Approved
Save £242.00
Item in Stock
---
About the Dini Argeo MCW300MR2-1 Crane Scale
The Trade Approved Dini Argeo MCW300MR2-1 "PROFESSIONAL" Crane Scale is a Reliable and easy to use AISI 304 stainless steel crane scales. They have IP67 protection from dust and rain and are suitable for indoor and outdoor use in many industrial weighing applications. Large backlit 25mm LCD display easily visible in all lighting conditions and also with low temperatures. Fitted with remote control for up to 8m distance use. The remote control can be configured by the customer as a single automatic tare or as a remote keypad. 5-key waterproof keypad: Zero, semi automatic or preset Tare, Mode, Print, On/Off. Power supply: Rechargeable sealed battery with a 40-hour life battery. A second battery is available from Acessories for 24/7 use. (MCWKBK) Optional (TPRPR2) Thermal printer integrated to the crane scale, fitted with connection cable and power supply from the instrument. Fitted with the following approved galvanised shackles: GR3 and GOC1 for MCWR2 (150/300/600/1500) (See Attachments) Capacity 300kg x 0.1kg. Ideal crane scale for buying and selling by weight.
Dini Argeo MCW300MR2-1 300kg x 0.1kg Crane Scale selectable functions -
PEAK (maximum value read).
HOLD (lock of the displayed weight).
Weighing totalization.
+/- checkweighing.
Percentage weighing.
Counting.
Peer-to-peer.

Shipping Information
Shipping to the Scottish Highlands and Islands, Northern Ireland and the Republic, Isle of Wight and the Isle of Man include an additional cost per order based on product weight. Please contact us for details. Call 01296 393133.