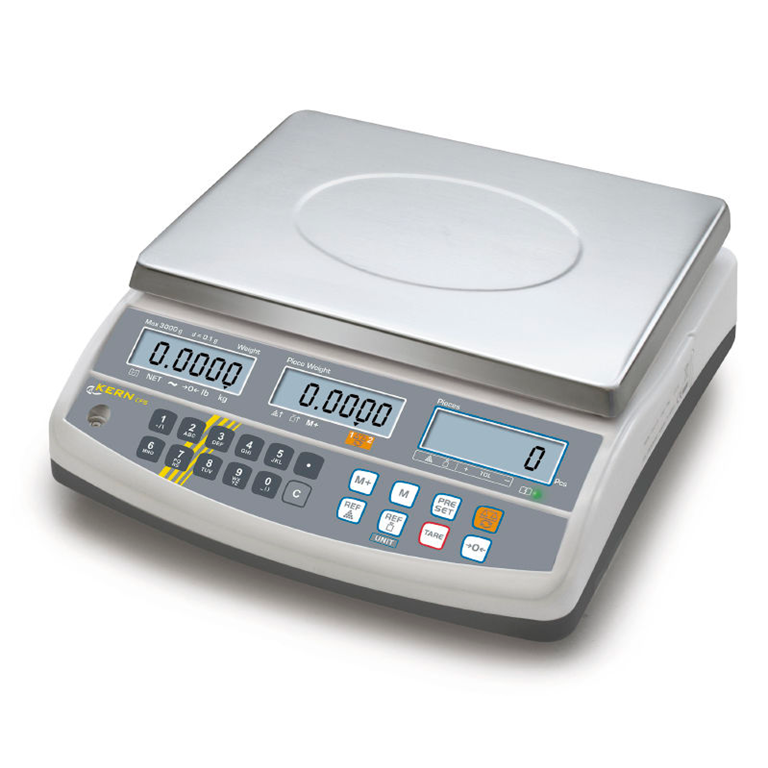 Kern CFS Counting Scale
RRP £236.00 | Save £24.00
Item in Stock
---
Click for Scale Selection
Kern CFS Counting Scale professional,
high-resolution parts counting scale
with 100 item memory for reference weight and tares. Item weights can be entered manually with a required quantity of items or by a known reference weight. Target weight or quantities are programmable with an
acoustic and visual signal when target is reached
. Second scale connection interface for weighing and counting heavier items or accommodating bulky containers. Large backlit LCD displays with 20mm digit height. Power via mains adapter, with
optional rechargeable battery
. Y-cable CFS-A04 is required if connecting more than one accessory. Optional
DAkkS calibration certificate
or alternatively select an
Oakleyweigh in-house traceable certificate
from Accessories.
Kern CFS Counting Scale features:
Memory (PLU) for 100 items with additional text, reference weight and tare weight, e.g. of a container
Precise counting: The automatic reference weight optimisation of reference weight gradually improves the average piece weight value
Checkweighing: A visual and audible signal assists with portion division, dispensing or grading
Programmable using numerical key pad:
- required reference quantity
- known reference weight
Three displays for total weight (verifiable), piece weight, total quantity
Fill-to-target function: Programmable target weight. An acoustic and visual signal will be displayed when the target value is reached
PRE-TARE function for manual subtraction of a known container weight, useful for checking fill-levels
Second balance interface to construct a high-resolution counting system.



Weighing Capacity
(Max) kg

Readability
(d) g

Weigh Plate
(mm)

CFS 300-3

0.3

0.001

Ø80

963-127

CFS 3K5

3

0.01

295 X 225

963-127

CFS6K0.1

6

0.1

295 X 225

963-128

CFS 15K0.2

15

0.2

295 X 225

963-128

CFS 30K0.5

30

0.5

295 X 225

963-128

CFS 50K-3

50

1

295 X 225

963-128
Shipping Information
Shipping to the Scottish Highlands and Islands, Northern Ireland and the Republic, Isle of Wight and the Isle of Man include an additional cost per order based on product weight. Please contact us for details. Call 01296 393133.