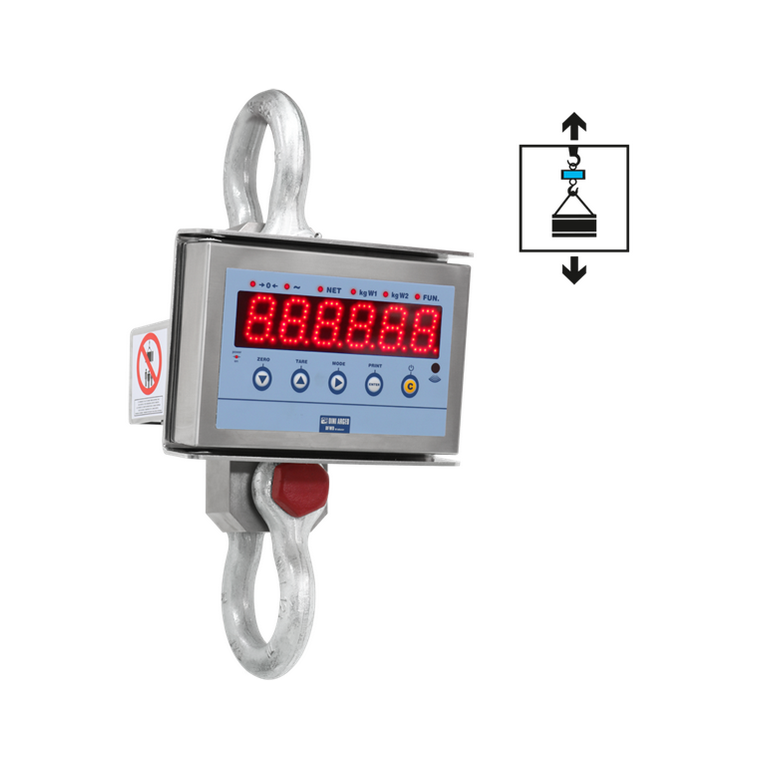 Dini Argeo MCW09 Crane Scale
Dini Argeo MCW09 Selection
Dini Argeo MCW09 Accessories


Dini Argeo MCW09 "Professional" crane scale has a huge 40mm DOT LED display giving maximum visability in all lighting conditions and angles. The Dini Argeo MCW09 is sturdily constructed from stainless steel and has IP67 protection from dust and sprays. The shackles are approved and galvanised. An optional fitted remote control is configurable as a TARE or 4-key remote key pad. Power is supplied from a rechargeable battery with an average life of 30 hours. Functions include Peak; Hold; totalisation; checkweighing; counting etc.
Dini Argeo MCW09 "Professional" Stainless Steel Crane scale, rated IP67. Key Features:
Extremely bright large red DOT LED 40mm display, which guarantees a perfect visibility of the weight from any angle, also from a long distance.

Usable indoors as well as outdoors, great visibility also in full sunlight.

Adjustable brightness intensity.

Sturdy STAINLESS steel structure, with IP67 protection degree of the load cell and the electronics, against dust and sprays.

Fitted with approved galvanised shackles.

Extremely reduced distance between upper and lower shackles.

Precision: +/- 0,01% on F.S. (+/-0,03% in the MCW09T12 model).

5-key waterproof keypad: ZERO, AUTOMATIC TARE, MODE, PRINT, and ON/OFF. •Progrmmable digital filter, for an excellent weight visualisation in any working condition.

Programmable automatic switch-off function, either through keypad or remote control.

Fitted remote control, configurable as just an automatic tare or as a 4-key remote keypad.

Predisposed for an 868MHz radio interface or WiFi, for connection to PC or to a remote terminal and printer.

Rechargeable battery, with an average life of about 30 hours.Predisposed for a second optional extractable battery for 24/7 continuous use.

Fitted with 230Vac 50 Hz battery charger.

Programmable digital calibration and Set-Up directly from the keypad or from PC through Dinitools.

Operating temperature range: -10/+40 ºC.
Code

Max Capacity kg

Standard Division Kg

HR Division




kg

MCW09T3-1
3000
1
0.5
MCW09T6-1
6000
2
1
MCW09T9-1
9000
5
2
MCW09T12-1
12000
5
2
MCW09T17-1
17000
10
5
MCW09T25-1
25000
10
5
MCW09T35-1
35000
20
10
MCW09T55-1
55000
20
10
Shipping Information
Shipping to the Scottish Highlands and Islands, Northern Ireland and the Republic, Isle of Wight and the Isle of Man include an additional cost per order based on product weight. Please contact us for details. Call 01296 393133.