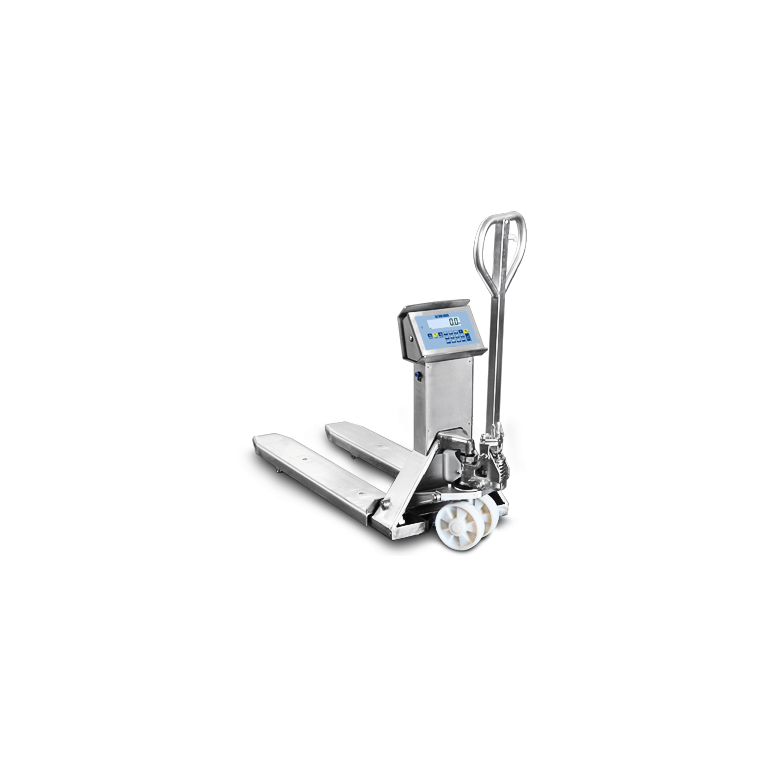 Dini Argeo TPWI Stainless pallet truck scale
The Dini Argeo TPWI is a high performance stainless steel pallet truck scale guaranteeing high performance in all working conditions. Fitted with four stainless IP68 shear beam loadcells giving a capacity of 2000kg. The indicator is housed within an IP68 stainless waterproof enclosure and has large 25mm high contrast LCD digits clearly visable in poor lighting conditions. Power is supplied from a built-in rechargeable battery giving up to 50 hours of continous use. Built-in functions include 10x high resolution; lb/kg conversion; formulation; check weighing; percentage weighing; hold and peak etc. A Trade Approved version is available kg only.
Dini Argeo TPWI Pallet truck scale details:
Maximum lifting capacity: 2000 kg.
Accuracy +/- 0.1% of the maximum capacity.
Fork dimensions 1182 x 550 x 80 mm.
Bearing structure entirely in extra thick STAINLESS steel.
Lifting pump in STAINLESS steel.
Steering wheels and double loading rollers with a polyurethane coating.
4 IP68 stainless steel shear beam load cells.
Weight indicator with waterproof IP68 STAINLESS STEEL case, easy to clean and resistant to harsh and corrosive environments; large 25mm high contrast LCD display, clearly visible also in poor lighting conditions, and membrane waterproof keypad, with 17 numerical/functional keys.
Calibration and Set-Up configurable from keyboard or from PC with DINITOOLS.
Power supply through built-in rechargeable battery.
50-hour approximate operating time or one month with the typical non continuous use, thanks to its auto switch-off function.
Programmable auto power saving function.
Equipped with 230Vac 50 Hz battery charger (recharging time is about 8 hours).
Bi-directional RS232/C port for connection to printer.
Bi-directional RS232/C port for PC, radio modem, or portable terminal.
IR input for managing the remote control.



Code

Max




(kg)

d




(kg)

CE-M




3000e (kg)

TPW20I-2
500 / 1000 / 2000
0,2 / 0,5 / 1
--
TPW20IM-2 Trade Approved
1000 / 2000
--
0,5 / 1
TPW20ID
500 / 1000 / 2000
0,2 / 0,5 / 1
--
TPW20IDM Trade Approved
1000 / 2000
--
0,5 / 1
Shipping Information
Shipping to the Scottish Highlands and Islands, Northern Ireland and the Republic, Isle of Wight and the Isle of Man include an additional cost per order based on product weight. Please contact us for details. Call 01296 393133.