Straightpoint Loadpins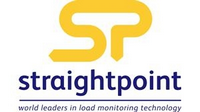 The Straightpoint range of Load Measurement Pins (LMP's) are designed for use in applications where an end of line Loadcell can not be used an an integrated solution is required. Manufactured from high tensile stainless steel and are normally supplied complete with an anti-rotation plate as a cabled or wireless solution. Built to withstand the harshest environments in industries such as marine and offshore oil and gas they are suitable for use in exposed situations and can be supplied to withstand immersion in seawater to extreme depths. The loadpins are typically connected to the optional Handheld plus or may be supplied with a vast array of output formats to include mV/V, RS-422, RS-485, utilizing the ASCII, MODBUS TRU and CAN-BUS protocols or an analogue output such as 4-20mA for PLC integration. Our cabled Loadpins are typically supplied with a 10 metre cable as standard however usable cable length varies greatly with lengths available to 1500 metres depending on output format.
Straightpoint Loadpins details-

Shipping Information
Shipping to the Scottish Highlands and Islands, Northern Ireland and the Republic, Isle of Wight and the Isle of Man include an additional cost per order based on product weight. Please contact us for details. Call 01296 393133.