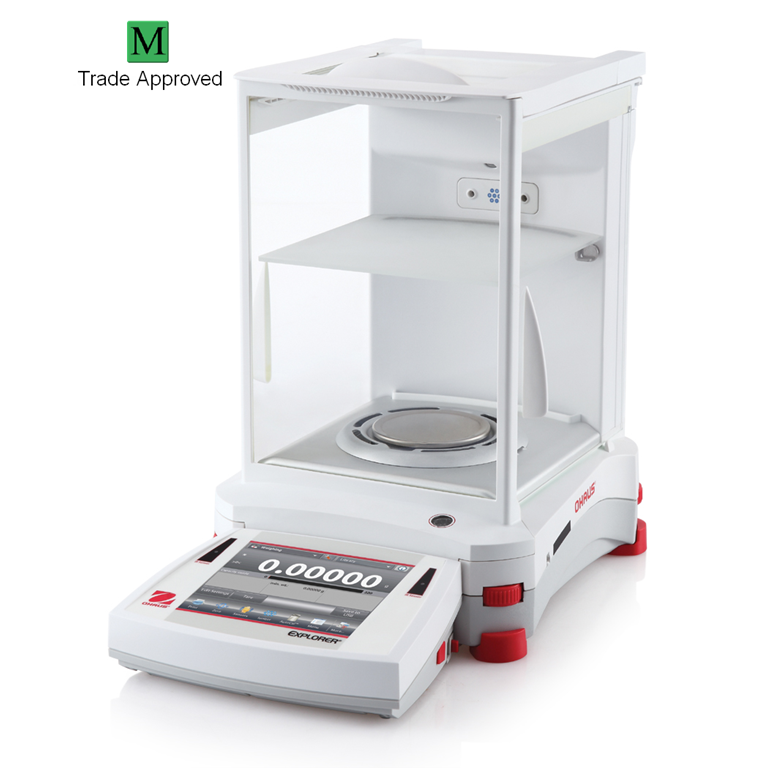 Ohaus Explorer Semi-Micro EX225DM (120g/220g x 1mg) Trade Approved
Was £5,900.00
Item in Stock
---
About the Ohaus EX225DM Semi-micro Balance
The Trade Approved Ohaus Explorer EX225DM Semi-Micro Balance has high resolution and accuracy. Weighing capacity of 120g, the first 120g x 0.01mg increments, and then to 220g x 0.1mg increments*. Pan size Ø 80mm.
Full-colour VGA graphic display
(5.7 in. diagonal), large colour touch screen. Automatic internal calibration, QWERTY keyboard and numeric keypad. Optional Automatic doors activated by the
touch-less sensors
, Built-in Ionizer, 99 item library and a 10 recipe library; RS232 and USB ports, fast stabilisation times, optimised linearity and repeatability, Real time clock for GLP/GMP data collection.

*The Trade Approved increment of this balance is an 'e' value (1mg) which can differ from the readable scale division, the 'd' value (0.01mg/0.1mg).

Ohaus Explorer Semi-Micro EX225DM features -

Application
Weighing, percent weighing, parts counting, check weighing, dynamic/animal weighing, filling, totalization, formulation, fill weight variation, differential weighing, density determination, peak hold, pipette adjustment, SQC.
Display
Full-colour VGA graphic display (diagonal 5.7"/145mm), detachable, 4-wire resistive touch screen. QWERTY keyboard and numeric keypad to quickly input GLP and GMP data and other application data.
Operation
AC Adapter (included)
Communication
Easy access communication ports including 2 units of USB port, RS232 and an optional 4th Ethernet port, GLP/GMP data output with real time clock, Direct Data Transfer, print to USB drive.
Construction
Metal base, ABS top housing, stainless steel pan, anti-static glass draftshield with flip-top door, replaceable in-use cover, automatic doors on specific models.
Design Features
AutoCal™ fully-automatic internal adjustment system equipped with 2 internal adjustment weights, routine test and minimum weight determination, fast stabilization time, four touchless sensors, built-in ionizer with automatic doors models, up to 14 operating languages, approved models available, save to USB function, menu lock switch, security bracket, integral weigh below hook for below balance weighing applications, removable stainless steel weighing platform, stability indicator, overload and underload indicators, auto standby.


Shipping Information
Shipping to the Scottish Highlands and Islands, Northern Ireland and the Republic, Isle of Wight and the Isle of Man include an additional cost per order based on product weight. Please contact us for details. Call 01296 393133.