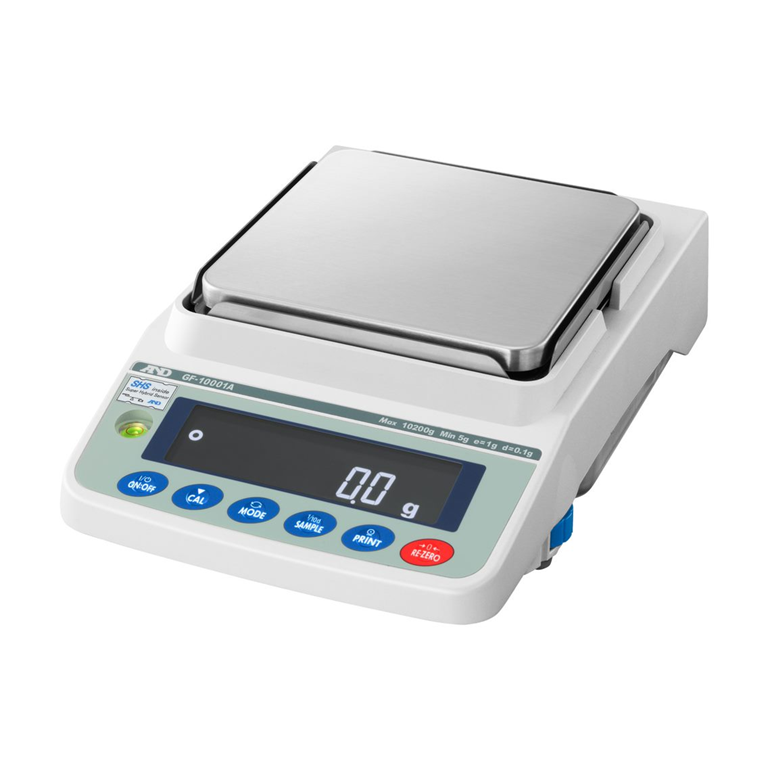 {"sku":"GX-6002AWP","name":"A&D GX-6002AWP IP65 Waterproof Precision Balance (6200g x 0.01g)","price":"2,058.00","qty":0,"category1":"","category2":""}
A&D GX-6002AWP IP65 Waterproof Precision Balance (6200g x 0.01g)
Save £571.00
Item in Stock
---
Add Calibration Certificate
About the A&D GX-6002AWP Waterproof Precision Balance
The A&D GX-6002AWP IP65 rated Waterproof Precision balance incorporates
advanced technologies
to provide innovative solutions for the user.
Electronically Controlled Load
performs a self diagnostic check and an internal repeatability test without an external weight in less than 2 minutes versus traditional external weight procedures which can take up to 5-10 minutes, ultimately providing greater convenience and efficiency. Standard deviation is calculated by the Auto Precision Assessment (APA) feature. The Self-diagnosis function confirmation and display of repeatability can be performed in addition to failure diagnosis, and whether or not the balance's performance is being exhibited can be easily checked. This function provides real-time feedback to the user to prevent damage to the weighing sensor. External Calibration. Capacity 6200g x 0.01g. Pan size 165mm x 165mm. A large Breeze Break is included.
Do I need a Calibration Certificate?
Oakleyweigh in-house traceable certificate.

Specifications for the A&D GX-6002AWP Waterproof Precision Balances -WinCT Communication Software
This precision balance can be connected to a computer using the RS232 port and the included WinCT software. This software can be used with Windows based computers to transmit data to and from your Apollo precision balance.

IP65 Water & Dust Resistant
The Apollo AWP models have an IP (Ingress Protection) rating of 65. This means the GF-6002AWP is protected from dust and low pressure water jets from all directions.

Smart Super Hybrid Sensor (SHS) Technology
The A&D Smart SHS combines magnetic force restoration and single-point parallelogram load sensing technologies to bring you fast stabilization and high resolution. This increases productivity for all weighing work-flows and offers higher maintenance accessibility.

Electronically Controlled Load (ECL)
Smart SHS technology also allows for internal repeatability tests to verify balance performance saving time and adding convenience over traditional external methods.

Overload Protection
The GF-AWP balances utilize two leaf springs to physically mitigate impact shocks by supporting the weighing pan.

Impact Shock Detection (ISD)
To further prevent damage to the weighing sensor, the GF-AWP provides real-time shock feedback both audibly and visually at four different levels. Use this information to adjust automated machine loading and educate operators on weighing techniques to prolong the life of the balance and reduce costs and downtime.

Flow Rate Display (FRD)
This feature streamlines flow rate determination and prevents irregularities that rise from time-clock disparities.

Bi-Directional RS-232 & USB Interfaces
The GF-AWP has built in RS232 and USB ports for easy communication with printers, computers, monitors and more.

WinCT Communication Software
This free software can be downloaded directly from A&D and used with Windows based computers to transmit data to and from GF-AWP balances.

Good Laboratory Practice (GLP) & Good Manufacturing Practice (GMP) Data Output
Output manufacturer, model, serial number, ID number, date + time, calibration report signature space, calibration test report, plus title and end blocks for series of weighing results.

Programmable Backlit Display
Backlit weight display you can program to always stay on, turn off after a period of inactivity, or to stay off. You can also adjust the brightness level to fit your needs.

Internal Memory For Up To 200 Data Sets
Internal memory to store ID number, data number, time and date for weighing data and calibration reports.

Dynamic / Animal Weighing
Dynamic weighing feature that allows you to accurately weigh unstable items by calculating the average weight of what's on the platform.

Checkweighing With LO-OK-HI Visual Indicator & Buzzer
Checkweighing feature that will let you set your target weight. Once your target weight is set, will let you know when you're over, under or just right with up to five threshold values.

Counting
Weigh a sample amount of pieces, so the balance can know how much each piece weighs, then start counting.

ACAI™ (Automatic Counting Accuracy Improvement)
Iimproves the accuracy of the unit weight by re-calculating the unit weight with each additional amount of pieces put on the scale.

Below Balance Weighing
Equipped with an internal mechanism to facilitate below balance weighing. Perfect for measuring magnetic materials and aiding density determination.
Shipping Information
Shipping to the Scottish Highlands and Islands, Northern Ireland and the Republic, Isle of Wight and the Isle of Man include an additional cost per order based on product weight. Please contact us for details. Call 01296 393133.