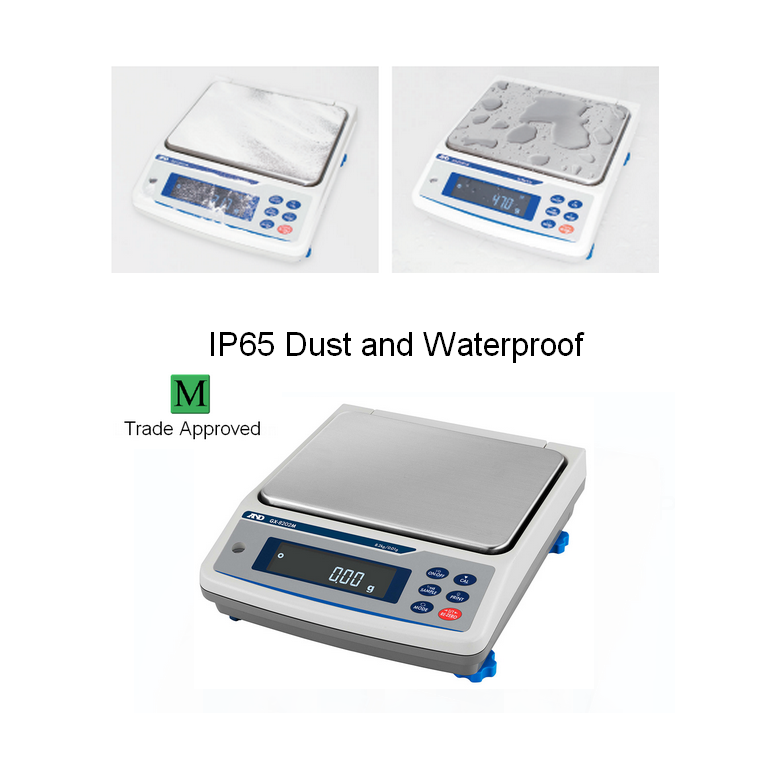 {"sku":"GX-M-LFT Apollo","name":"A&D GX-M IP65 Waterproof Precision Balances Trade Approved","price":"0.00","qty":0,"category1":"laboratory-scales-1","category2":""}
A&D GX-M IP65 Waterproof Precision Balances Trade Approved
Save £690.00
Item in Stock
---
Click for Balance Selection
Add Calibration Certificate
About the Trade Approved A&D GX-M IP65 Balances
The Trade Approved A&D GX-M IP65 Precison Balances are high capacity, featuring high speed weighing and settling times with ultra fast response speed of just 1.5 seconds and ideal for
accurate weighing of large items.
Other key features include IP65 rating for protection against dust and water jets, large, bright display can be seen in poorly lit places, multiple weighing (g, ct, dwt, etc.) plus counting and percentage weighing.
Large stainless steel weighing pan
(270 x 210mm), standard RS-232C incorporates bi-directional communication with a PC, printer or other peripheral device.
Internal Calibration.
Impact Alert



Do I need a Calibration Certificate?
Oakleyweigh in-house traceable certificate.

A&D GX-M IP65 Balances with large weighing pan, high accuracy and large capacity. Waterproof to IP65 standards (IP rated as "dust tight" and protected against water projected from a nozzle).
IP65 compliant, dust and water proof
Internal (GX-M) and External (GF-M) models available
Fast stabilization of approx. 1.5 seconds
Large bright vacuum fluorescent display
Large weighing pan: 270 mm (W) × 210 mm (D)
Animal weighing (hold) function
GLP/GMP/GCP/ISO compliant output
Data memory / accumulation function
Multiple weighing units & programmable unit
ACAI – Automatic Counting Accuracy Improvement
Waterproof RS-232C cable available



| Model | Capacity | Div. | Pan Size |
| --- | --- | --- | --- |
| GX-8202M-LFT | 8.2kg | 0.1g | 210x270mm |
| GX-10202M-LFT | 10.2kg | 0.1g | 210x270mm |
| GX-12001M-LFT | 12.2kg | 1g | 210x270mm |
| GX-22001M-LFT | 22.2kg | 1g | 210x270mm |
| GX-32001M-LFT | 32.2kg | 1g | 210x270mm |
Shipping Information
Shipping to the Scottish Highlands and Islands, Northern Ireland and the Republic, Isle of Wight and the Isle of Man include an additional cost per order based on product weight. Please contact us for details. Call 01296 393133.