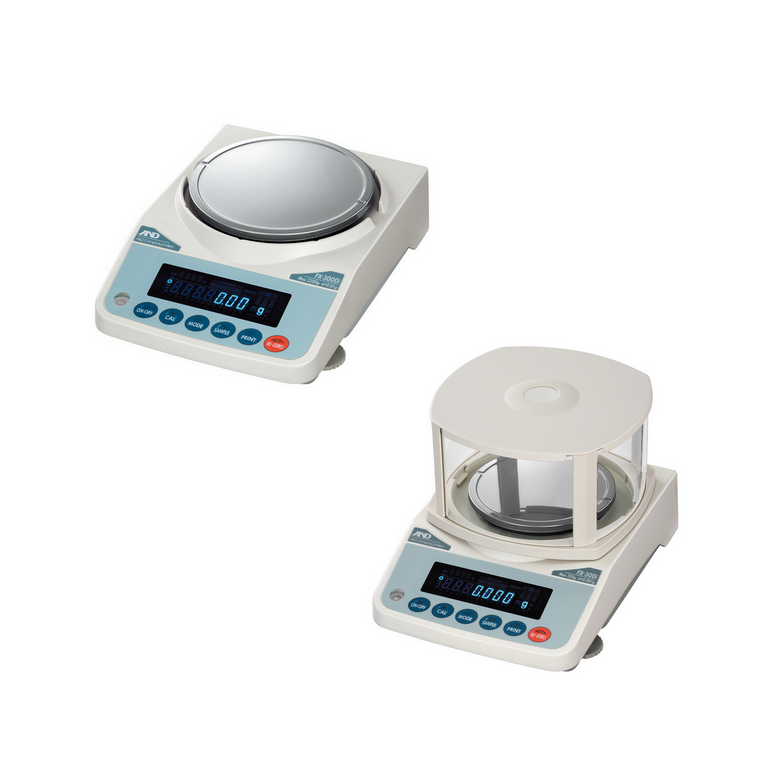 A&D FX-i Grain (GN) Precision Balance
Was £588.00
RRP £588.00 | Save £158.00
Item in Stock
---
Click for Balance Selection
About A&D FX-i (GN) Grain Balances
A&D FX-i Grain (GN) Precision Balances have the ability to weigh in Grains (GN) and also multiple weighing units. Ideal for weighing propellant powders and seeds. Internal Shock Absorber protects from the adverse effects of vertical and transverse overloading. Large bright Vacuum Fluorescent Display gives clear readings in the most difficult of lighting conditions. Ideal for weighing propellants to fire cases in F Class Rifle Shooting, accurate weighing to 0.02GN. RS-232C Interface (standard) Bi-directional communication is possible with a PC, printer or other peripheral devices. Power from AC adaptor (supplied). GLP/GMP/GCP/ISO compliant. The small breeze break comes as standard with FX-120i, FX-200i, FX-300i and FX-500i models. Available for Export (contact)
A&D FX-i Grain Precision balance, ideal for weighing seeds and propellants. Ideal for weighing propellants for F Class Rifle Shooting.
Key Features:
High-speed weighing with 1-second stabilization
Compact foot print: 198 mm × 294 mm (smaller than an A4 sheet of paper)
Protection mechanism against vertical and transverse overloading
Adjustable response characteristics to help cope with the effect of drafts and vibrations
Weighs in Grains (GN) and can be use in g, oz, lb, lb-oz, ozt, ct, mom, dwt, grain, and a user-programmable unit
Large bright vacuum fluorescent display
GLP/GMP/GCP/ISO compliant output
Counting mode with the Automatic Counting Accuracy Improvement (ACAI) function
Percent mode function
Animal weighing (hold) function
Statistical calculation function
Comparator function with buzzer
Auto power on/off function
Under hook function
Built-in rechargeable battery (optional)




| Model | Capacity | Div. | Pan Size | Code |
| --- | --- | --- | --- | --- |
| FX-120i Gn Balance | 1880gn | 0.02gn | Ø130mm | FX-120i Gn Balance |
| FX-200i Gn Balance | 3395gn | 0.02gn | Ø130mm | FX-200i Gn Balance |
| FX-300i Gn Balance | 4900gn | 0.02gn | Ø130mm | FX-300i Gn Balance |
| FX-1200i Gn Balance | 18800gn | 0.2gn | Ø150mm | FX-1200i Gn Balance |
| FX-2000i Gn Balance | 33950gn | 0.2gn | Ø150mm | FX-2000i Gn Balance |
| FX-3000i Gn Balance | 49000gn | 0.2gn | Ø150mm | FX-3000i Gn Balance |
---
Firstly please pass on my appreciation to Stephanie whom I placed this order with on Wednesday 9th and spoke with regarding the calibration, delivery details, and the payment for this A&D fx120i It's so nice speaking i...n person to people also a company that deliver on their offered services this day and age, I congratulate you and your team for this high standard of customer service. My scale was delivered safe & sound by FedEx this afternoon Many thanks once again to you to and your team. More
By Mr Stephen Clements from UK on 10th December 2020
---
The scales are excellent and give me full confidence in knowing that the weight they display is consistent and repeatable. It was a pleasure to deal with your company. Staff are friendly and knowledgeable. Great advice and... answered all my questions. I thoroughly recommend your company. More
By Lee Massey from Warminster on 23th November 2020
---
The A&D FX-120i I received from you is brilliant. I combined it with a product from Canada called Autotricker, and use it for home loading rifle ammunition. I find it incredibly accurate. The weights and scales I received ...from you were well packaged and arrived promptly. More
By Patrick Travis from Great Yarmouth on 24th May 2020
Shipping Information
Shipping to the Scottish Highlands and Islands, Northern Ireland and the Republic, Isle of Wight and the Isle of Man include an additional cost per order based on product weight. Please contact us for details. Call 01296 393133.