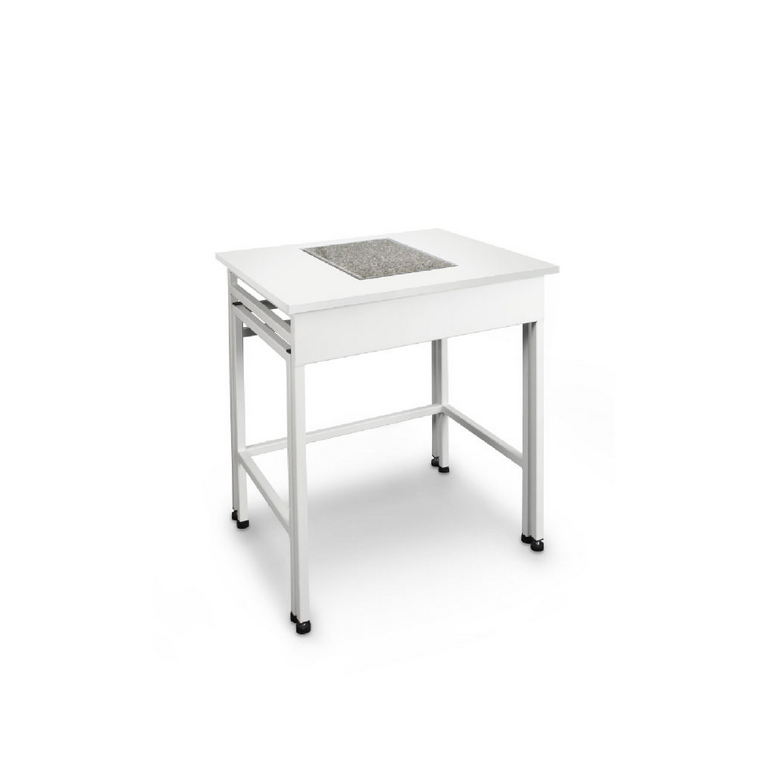 Kern YPS-03 Weighing table
Kern YPS-03 balance table for accurate measuring results.
The KERN YPS-03 weighing table has been constructed to absorb vibrations and oscillations, which would otherwise distort the weighing result. The KERN YPS-03 weighing table consists of a heavy, polished granite slab which weighs 34 kg and is positioned on absorbing rubber components and is used as a surface on which to stand an analytical balance and also serves as a work table. The sturdy powder-coated steel frame has four height-adjustable feet, which can be used to accurately level the weighing table if the floor is at all uneven. All surfaces are easy and hygienic to clean.

Kern YPS-03 Weighing table features:
Suitable for all KERN and other makes of analytical balances
Dimensions of granite slab: W×D×H 270×410×115 mm
Overall dimensions: W×D×H 768×648×800 mm (height-adjustable revolving screw feet)
Net weight approx. 62 kg
Overall dimensions mounted: (W×D×H): 768mm x 648mm x 800mm
Packaging & shipping -
Dimensions packaging: (W×D×H): 1100mm x 800mm x 1115mm
Gross weight: 91 kg Net weight: 62 kg
Shipping Information
Shipping to the Scottish Highlands and Islands, Northern Ireland and the Republic, Isle of Wight and the Isle of Man include an additional cost per order based on product weight. Please contact us for details. Call 01296 393133.