Ohaus Pioneer Analytical Balances
RRP £1,070.00 | Save £161.00
Item in Stock
---
Click for Standard Models
Click for Trade Approved Models
Easily removed doors to facilitate cleaning are a major feature of the Ohaus Pioneer Analytical balances. Individual doors and panels can be replaced if broken. Many features and applications are built in to enable research, laboratories, industry and educational establishments to carry out routine and basic weighing routines.
Eighteen weighing units
and one custom, parts counting and percent weighing. Difficult conditions such as vibration can be accomodated with the selectable
environmental filters
. Standard RS232 for sending balance ID and weight to a PC or printer, fixed integral weigh below hook, levelling bubble, menu and calibration locks. Optional
Trade Approved, Legal for Trade models.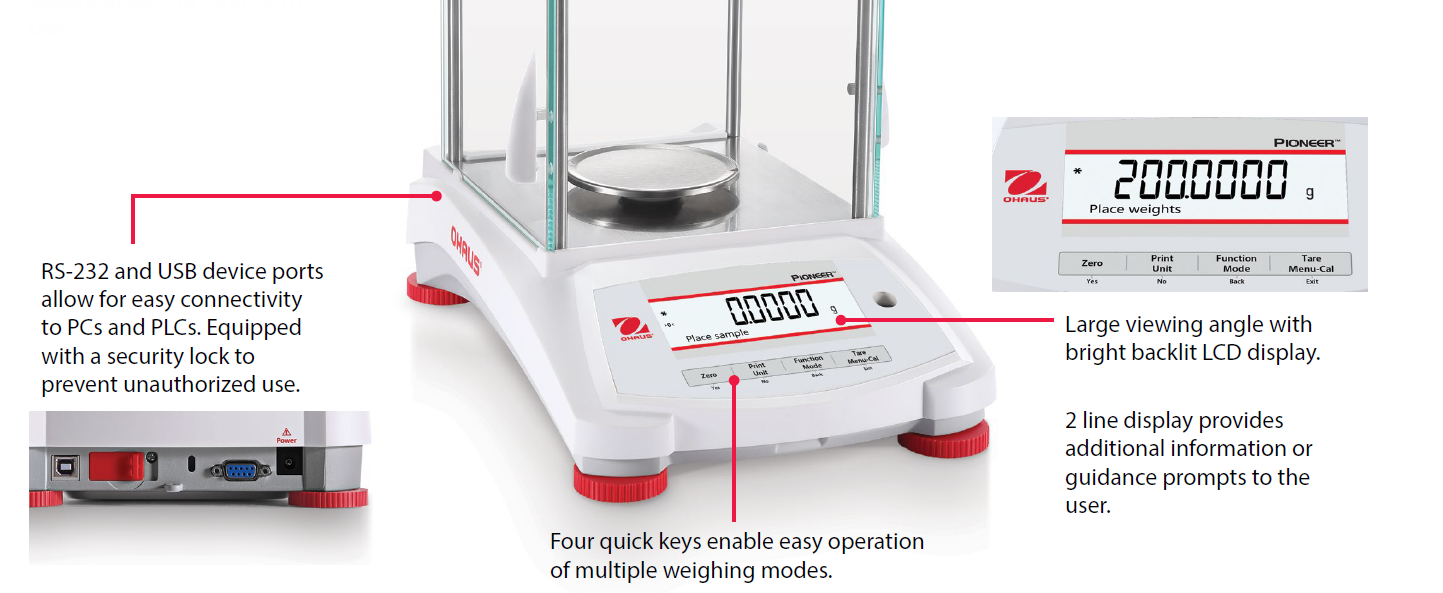 Ohaus Pioneer Analytical Balances
Easy-to-Clean Draftshield Protects Samples from Contamination - The draftshield features removable glass panels and three sliding doors which help to avoid sample contamination. These can be easily removed for cleaning the balance.
Backlit LCD Makes Viewing of Results Easier - Even in Low Light Conditions The Pioneer is equipped with a bright backlit LCD which enables clear viewing of results regardless of the lighting conditions-making it ideal for use in any work setting.
Selectable Environmental Settings Minimize External Influences & Ensure Accuracy - Three filter modes and adjustable zero tracking help to adjust the balance's sensitivity to environmental disturbances, vibrations and slow filling applications, ensuring the accuracy of measurements.
Model

Item Nr.

Capacity

Div.

Platform

Internal Calibration

Trade
Approved

PX124/E

304298101

120g

0.1mg

Ø 90mm

PX124

30429803

120g

0.1mg

Ø 90mm

Y

PX124M

30430010

120g

1mg

Ø 90mm

Y

PX224/E

30429811

220g

0.1mg

Ø 90mm

PX224

30429804

220g

0.1mg

Ø 90mm

Y

PX224M

30430013

220g

1mg

Ø 90mm

Y
Items 30529323 and 30059316 are included with the SF40A printer package.
Please check cables compatibility with our Sales Support Center prior to placing an order
Note: Scout, Traveler and Navigator require RS232 accessory for printer connection
Shipping Information
Shipping to the Scottish Highlands and Islands, Northern Ireland and the Republic, Isle of Wight and the Isle of Man include an additional cost per order based on product weight. Please contact us for details. Call 01296 393133.