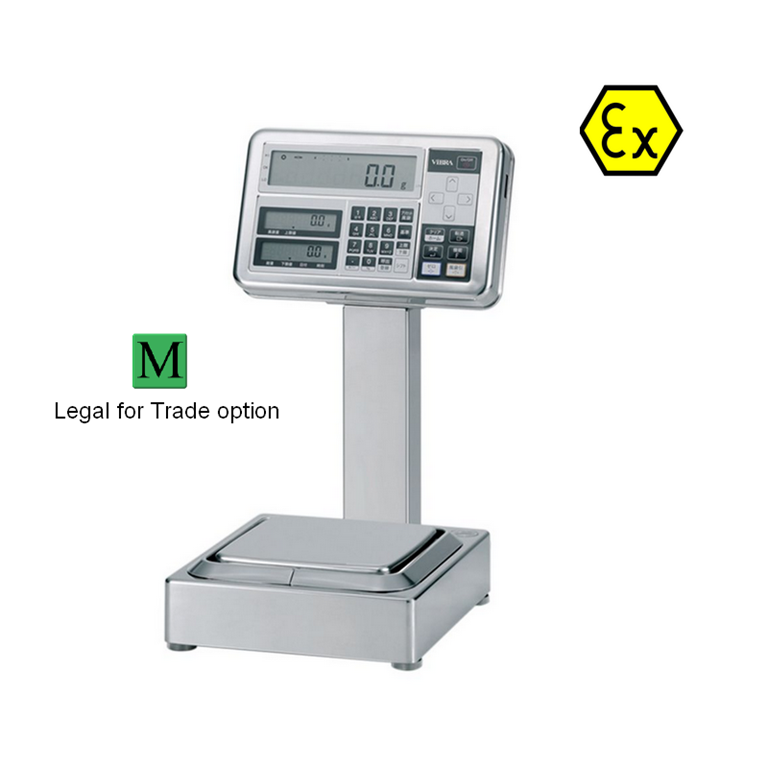 {"sku":"FZ15001Ex-i03","name":"Shinko FZ15001Ex-i03 (15kg x 0.1g)","price":"5,856.00","qty":0,"category1":"industry-scales","category2":"bench-scales-portable-scales"}
Shinko FZ15001Ex-i03 (15kg x 0.1g)
Trade Approval including fees
Add Calibration Certificate
About the Intrinsically Safe Shinko FZ FX15001Ex-i03 Bench Scale
The Intrinsically Safe Shinko FZ FZ15001Ex-i03 Bench Scale is
ATEX approved for Precision weighing in explosive gas area category 1G (zone 0, 1 and 2).
ATEX approval II 1 G Ex ia IIB T4 Ga. All FZ models have
IP65 rating, water and dust
allowing them to be used in tough environments. Designed for weighing operations in hazardous areas of industry, pharmaceutical, chemicals, etc. Stainless steel construction and stainless indicator type '03' which has two sub-displays in which two additional informations can be indicated (tare weight, gross weight, lower and upper limit, etc..) Two RS232 outputs. Supplied with safe area mains PSU. 1m of cable with column mounting for the display. Capacity 15g x 0.1g. Pan size 190mm x 190mm. Trade Approved division 1g.
Do I need a Calibration Certificate?

Common Specifications for i02 and i03 models -
Tare Zero to Full weighing range
Span adjustment Manual operation Span Adjustment with external calibration weight
ATEX approval Ⅱ 1 G Ex ia Ⅱ B T4 Ga
Ingress Protection Rating IP65
OIML & EC approval classⅡ
Over error "o-Err" showed when Full weight range + 9 more digits over
Temperature and humidity range 5~ 40℃ (Scale & display), 0~40℃ (Power suppy box), Up to 85% rh(without the dew condensation)
Power source Power supply box attached as standard
Output RS232C or option connector
Indicator i02 or i03
Scale cable length 5m for FZ 150K1GFEx and 300K1GFEx.
1m for all other models.
Power supply cable 5m.
Shipping Information
Shipping to the Scottish Highlands and Islands, Northern Ireland and the Republic, Isle of Wight and the Isle of Man include an additional cost per order based on product weight. Please contact us for details. Call 01296 393133.