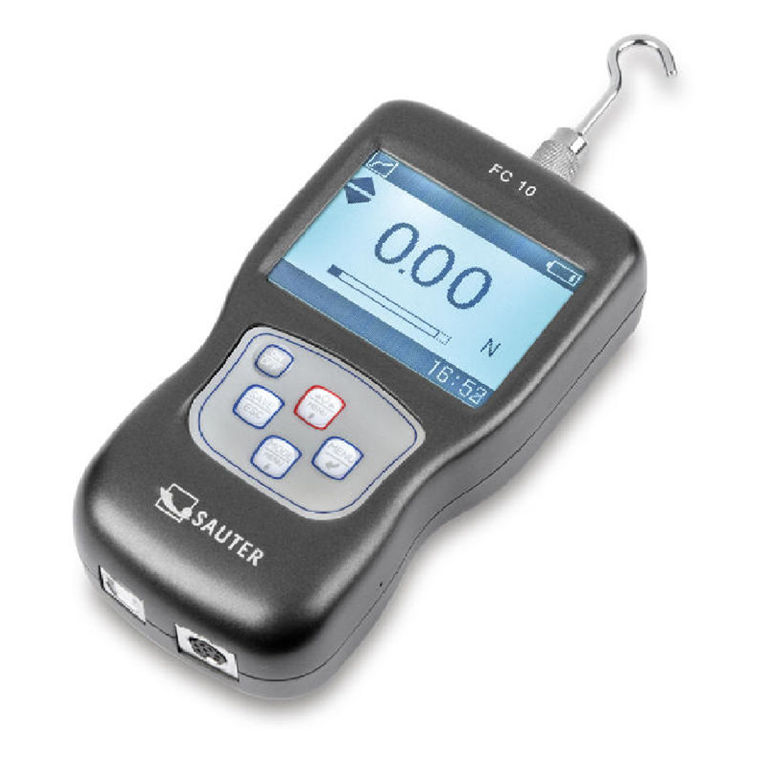 Sauter FC Force Gauge
RRP £324.00 | Save £33.00
Call for Stock Update
---
Click for Gauge Selection
I'm sorry, we've sold out
Don't worry, if you enter your email below we'll notify you when it's back in stock!
The Sauter FC Compact Force Gauge has a Turnable display with backlight. The durable metal housing is suitable for harsh environments. A capacity bar light indicates how much of the measuring range is still available and visual and acoustic signals warn if the load exceeds 110% of the measuring range. Main features include: Real time or Peak Hold Mode to observe transcients or capture peaks: Measuring with tolerance range (limit-setting function): Upper and lower limiting can be programmed between 10 and 100 % of [Max], in pull and push direction. The process is supported by an acoustic and visual signal. DAkkS Certification available (see Accessories)

Sauter FC Compact Force Gauge

Internal memory for up to 1000 measurements

USB data interfaces as standard

Data interface RS-232 (only for connection to the printer)

Selectable: AUTO-OFF function or permanent operation



Measuring Range
(Max) N

Readout
(d) N

DAkkS Certification
Tensile

DAkkS Certification
Compressive

DAkkS Certification
Tensile/Compressive

FC 10

10

0.01

963-161

963-261

963-361

FC 50

50

0.01

963-161

963-261

963-361

FC 100

100

0.1

963-161

963-261

963-361

FC 500

500

0.1

963-161

963-261

963-361

FC 1K

1000

1

963-162

963-262

963-362
Shipping Information
Shipping to the Scottish Highlands and Islands, Northern Ireland and the Republic, Isle of Wight and the Isle of Man include an additional cost per order based on product weight. Please contact us for details. Call 01296 393133.