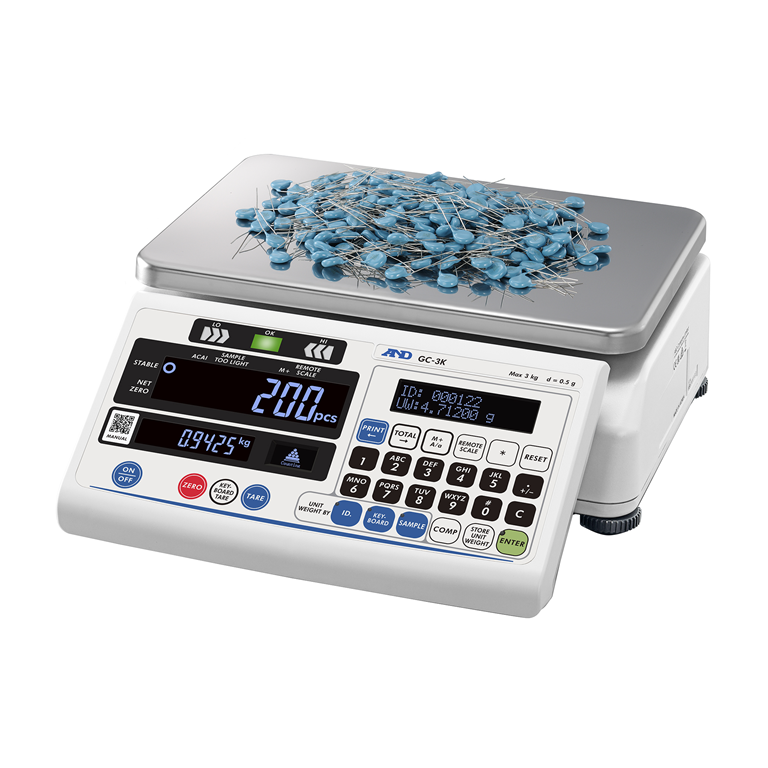 {"sku":"GC-15K","name":"A&D GC Counting Scale GC-15K (15kg x 2g) (min piece weight 0.02g)","price":"580.00","qty":0,"category1":"","category2":""}
A&D GC Counting Scale GC-15K (15kg x 2g) (min piece weight 0.02g)
Save £193.00
Item in Stock
---
Add Calibration Certificate
About the A&D GC-15K Counting Scale
The A&D GC-15K Counting Scale has been
designed to be able to connect with various other devices to expand it's capabilities
as needed or remain as stand alone. Three separate reverse-backlit LCD displays for count, weight, and unit weight data, and one OLED (Organic light-emitting diode) information display. The GC Counting Scales can store 20-character (max.) item code, tare weight, total count / number of additions and comparator limits, on top of 6-digit ID number and unit weight for as many as 1,000 items. The Unit Weight is stored in internal memory and can be retrieved at once even if the scale is accidentally reset or turned off. Standard interfaces - RS-232C (D-Sub 9-pin), MicroSD card slot, External input terminal. Multi interfaces are available with the optional AD-8516 connected.
Transmitting and receiving data from D-sub 9 pin (between the counting scale and a connected device such as a printer)

Sending texts to the counting scale from USB Type-A with a barcode reader or keyboard (from a barcode reader/keyboard to the counting scale)

Sending weighing data from an external scale connected to the terminal block to the counting scale (from an external scale to the counting scale).
The display unit can be detached to use remotely from the weighing unit.
Capacity (15kg x 2g) (min piece weight 0.02g). Platform size 310mm x 210mm.
Do I need a Calibration Certificate?

Oakleyweigh in-house traceable certificate
.
A&D GC Counting Scales main features -
Automatic Item Search to instantly find a desired unit weight
Large internal memory to store data for up to 1,000 items
Memory capacity extension using a MicroSD card
Three reverse-backlit LCD displays for count, weight, and unit weight data, and one OLED information display
Selectable power sources including mobile battery via USB cable
RS-232C interface that supports digital connection with an A&D balance/scale
Expanded scope of application using the AD-8561 series of Multi-Interfaces (sold separately)
Comparator function with highly-visible LED traffic lights and buzzer
Automatic Counting Accuracy Improvement (ACAI)
Stabilization of approx. 1 second (typical)*2
Password lock and key lock functions
External input terminal
Shipping Information
Shipping to the Scottish Highlands and Islands, Northern Ireland and the Republic, Isle of Wight and the Isle of Man include an additional cost per order based on product weight. Please contact us for details. Call 01296 393133.