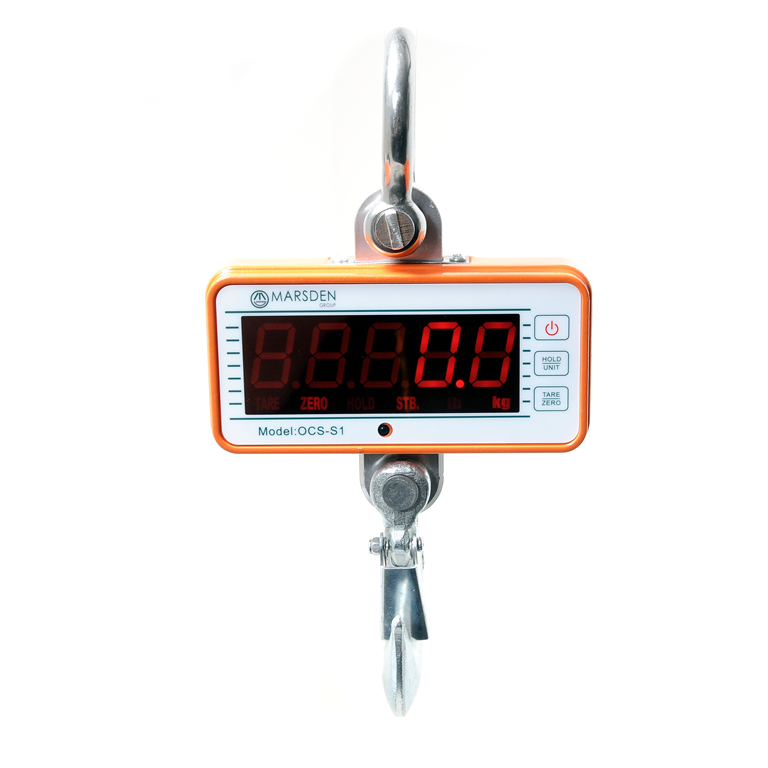 {"sku":"OCS-S1 1000","name":"Marsden OCS-S1 1000 Hanging Scale (1000kg x 0.5kg)","price":"229.20","qty":0,"category1":"","category2":""}
Marsden OCS-S1 1000 Hanging Scale (1000kg x 0.5kg)
Add Calibration Certificate
About the Marsden OCS-S1 1000 Hanging Scale
The Marsden OCS-S1 1000 Crane Scale is a lightweight, high accuracy hanging/crane scale. Bright LED display means it is clearly visible from long distances and it can be operated via an infrared remote control (supplied). Fitted with an overload protection alarm, which wil sound when the scale is near the maximum amount of load. The fixed shackle and hook are constructed from stainless steel to provide strength. Power: 4 x AA 1.5V batteries. Capacity 1000kg x 0.5kg.

Marsden OCS-S1 1000 1000kg x 0.5kg features:
Aluminium die cast case
20mm LCD with backlight
Stainless steel shackle and hook
Zero
Tare
Hold
Overload alarm
Auto-power off
Simple and easy to use
Shipping Information
Shipping to the Scottish Highlands and Islands, Northern Ireland and the Republic, Isle of Wight and the Isle of Man include an additional cost per order based on product weight. Please contact us for details. Call 01296 393133.