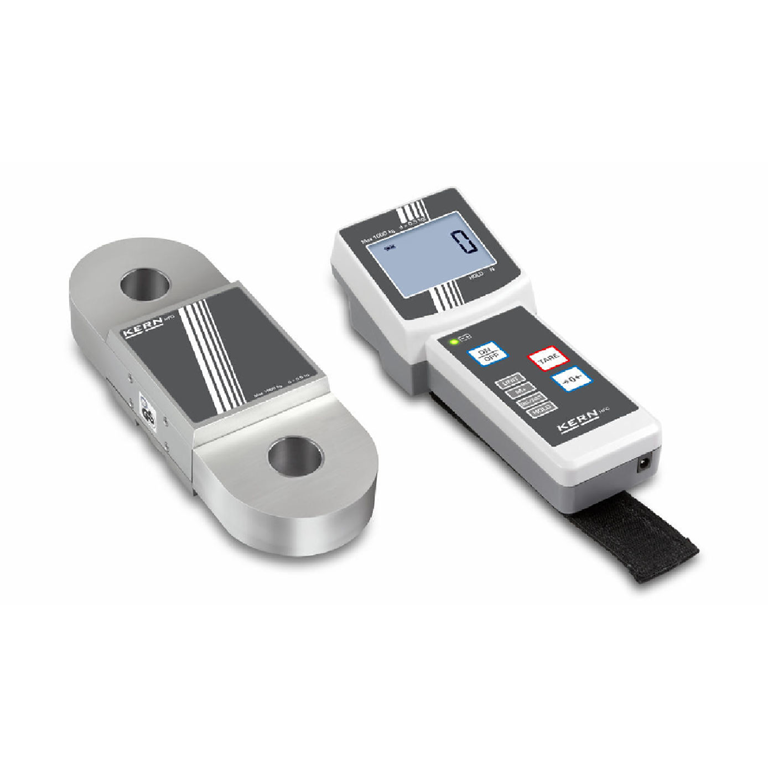 Kern HFC Crane Scale
Click for Scale Selection
The Kern HFC Crane Scale is compact with a high quality finish and light to carry. Ideally suited for use where space is limited. Designed for industrial use, on building sites, in freight centres, ports etc.
Featuring -
Peak Hold: display (peak hold)
Hold function: When the weighing value remains unchanged the weight indicated on the display is automatically "frozen" until the HOLD key is pressed.
Tare: Resets the display to "0" when there is a load on the scale. Now removed or added loads are directly displayed.
Display Device: with integrated radio module, which the user can carry around with him, thanks to the convenient hand strap. In this way the weighing data can always be read off the display device by the user, even when the user is a long way from the load receptor (force gauge) or under poor lighting conditions. Standard. Range up to 100 m. All functions can be selected.
Display: LCD, digit height 23 mm, Rechargeable battery pack internal, standard. operating time up to 80 h without backlight, charging time approx. 12 h.

Dimensions Housing (display device) W×D×H 88×64×256 mm
Material and design of housing/load support, models with

[Max] ≤ 3 t: aluminium/stainless steel bearing
[Max] > 3 t: steel/steel
With the TÜV certification mark, the scale meets the requirements of the standard EN 13155 (Non-fixed load lifting attachments/Breakage resistance) and EN 61010-1 (Electrical safety)

Kern HFC Crane Scale optional accessories include:
· High-strength shackle, hot-dipped galvanised cast steel bracket bow shaped.
Scope of delivery: 2 shackles with lacquered screw bolts, suitable for models with
[Max] ≤ 5 t: KERN YSC-01
[Max] > 5 t: KERN YSC-02
· Hook with safety catch, cast steel, galvanised and lacquered, non-revolving.
Scope of delivery: 2 shackles, 1 lacquered screw bolt, 1 hook, suitable for models with
[Max] ≤ 1 t: KERN YHA-01
[Max] = 3 t: KERN YHA-02
[Max] = 5 t: KERN YHA-03
[Max] > 5 t: KERN YHA-04
· DAkkS Calibration Certification.
Kern HFA Crane Scale specifications:



Weighing Capacity
(Max) kg

Readability
(d) g

Net Weight
approx. kg

HFC 600K-1

600

200

1.8

963-130H

HFC 1T-4

1000

500

1.8

963-130H

HFC 3T-3

3000

1000

2.2

963-132H

HFC 5T-3

5000

2000

4.0

963-132H

HFC 10T-3

10000

5000

6

963-133H
Shipping Information
Shipping to the Scottish Highlands and Islands, Northern Ireland and the Republic, Isle of Wight and the Isle of Man include an additional cost per order based on product weight. Please contact us for details. Call 01296 393133.