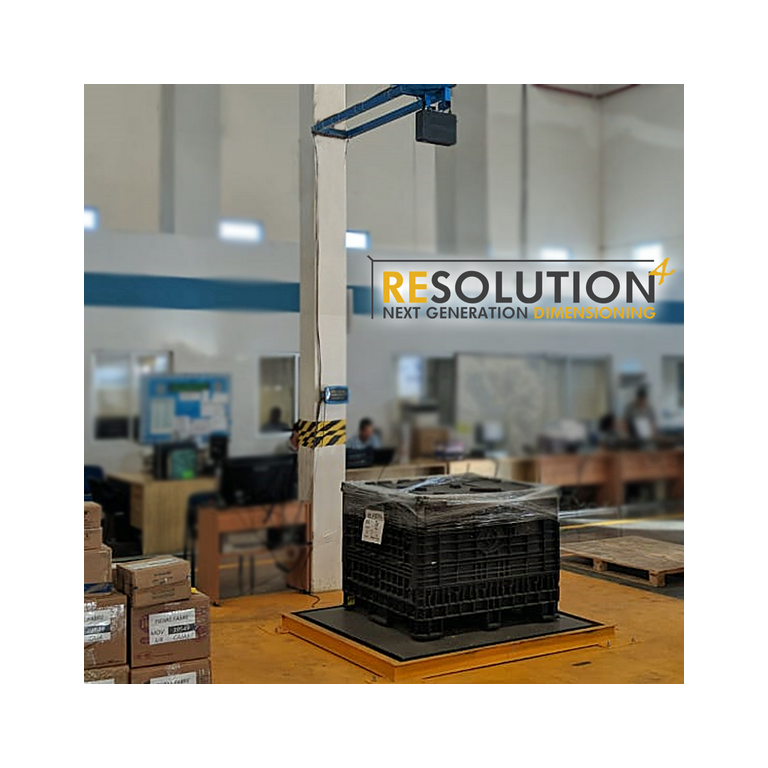 Resolution 4 Pallet Dimensioner

Resolution 4 is a low cost/high quality pallet dimensioning and weighing system using the latest 3D imaging technology to provide a revolutionary dimensioning solution that calculates pallet dimensions for cubic or irregular shapes in 0.05 seconds . Easy to use, dimensioning can be triggered at the press of a button or by scanning a barcode, the data and image is stored and optionally sent via Ethernet, RS232 serial or Wifi to a server or 3rd party software. All measurement data and images are stored on the Resolution One Camera and can be: viewed locally on the Resolution 15" display; remotely viewed and downloaded from any PC or mobile device with a web browser using the built in web service; sent via Ethernet, WiFi or RS232 to a PC or server in Excel file format.
PRICE INCLUDES: 2 x Resolution One Dimensioning Cameras with wall mounting brackets, 15.6 inch Touch Screen with all required software, Power Adaptors, Cabling and Electronics housing; ; one VWXtraPF Platform Scale size 1250mm x 1250mm, capacity 1500kg x 0.5kg. Options include- Platform Scale size1500mm x 1500mm, capacity 3000kg x 1kg; Zebra barcode label printer; handheld wired barcode scanner.
Resolution 4 Dimensioner
Measurement of cubic or irregular shaped freight/objects
No requirement to specially position the object before measuring
Low cost technology thanks for novel 3d imaging technology
Super fast measuring time (0.05 seconds)
Easy integration with 3rd party software using Web Service API
Integrate with almost any scale, barcode printer, barcode scanner or OCR
Customisable interface and data transfer via Ethernet or Wifi with any format
OIML Approved Weighing Scale


VWXtraPF Weighing Scale
Capacity Options: 1500kg or 3000kg (others on request)
Platform Height: Approx. 96mm
Finish : Powder Coated Mild Steel
Loadcell: Zemic H8C OIML Approved
Feet: Height adjustable tool steel rubber based mounting feet
Shipping Information
Shipping to the Scottish Highlands and Islands, Northern Ireland and the Republic, Isle of Wight and the Isle of Man include an additional cost per order based on product weight. Please contact us for details. Call 01296 393133.