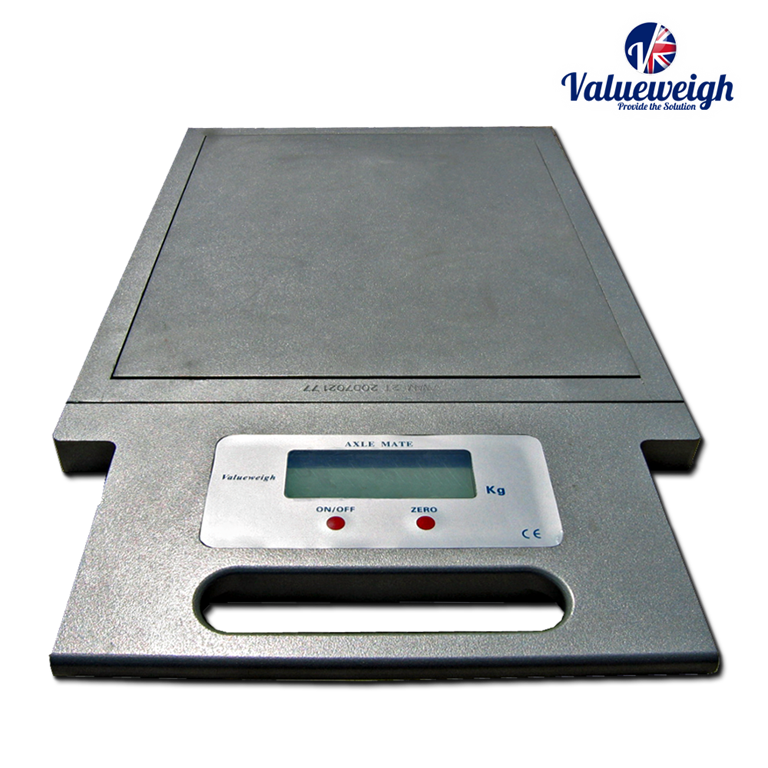 Valueweigh VWAM Axlemate Axle Weighing Pads
Valueweigh VWAM Axlemate
vehicle weighing pads are ideal for portable
axle weighing
. Constructed from high strength aluminium to ensure
robustness and reliability
and only 25mm high platform for ultimate portability and impressive weighing accuracy. All Axlemate pads come complete with
rechargeable batteries
, power charger and
carry handles built in to the pad
. An auto-off feature ensures the VWAM pads operate up to
16 hours between charges
enabling them to be used whenever and wherever they are required. See table below for full specification of all models.

Valueweigh VWAM Axlemate axle weighing pads offer quick and easy axle weighing. They are made from light weight high strength aluminium as used in aircraft construction making them robust and reliable. For ease of use, the VWAM pads can be used as a pair, with one pad placed under each wheel with no need for wires between the two. Simply drive your vehicle onto the pads and add the two weight reading together to get an accurate overall weigh of your axle. These low profile axle pads have a built-in 5 digit 25mm high LCD display with simple ON/OFF and ZERO buttons and a 16 hour rechargeable battery life between charges. These vehicle weighing scales will enable you to check your vehicle load weight is within the regulations of the Driver and Vehicle Standards Agency (DVSA).
Ultra Low profile - only 25mm high
Made from tough Aircraft Aluminium Alloy
1 year manufacturers warranty
Tough and robust construction
Rechargeable battery powered (charger included)
Optional ramps for easy access
Multiple button loadcells for accurate weighing
Various standard sizes and capacities
Custom sizes and capacities available
Choose from the following models, capacity & sizes:
| | | | |
| --- | --- | --- | --- |
| Model | Maximum Capacity | Weighing Area (LxWxH) | Pad Weight |
| Axlemate VWMA2 | 2000kg x 1kg | 360 x 290 x 25mm | 10kg |
| Axlemate VWAM2L | 2000kg x 1kg | 560 x 460 x 25mm | 18.5kg |
| Axlemate VWAM5 | 5000kg x 2kg | 360 x 290 x 25mm | 10kg |
| Axlemate VWAM5L | 5000kg x 2kg | 560 x 460 x 25mm | 18.5kg |
| Axlemate VWAM10 | 10,000kg x 5kg | 715 x 420 x 25mm | 24kg |
| Axlemate VWAM20 | 20,000kg x 10kg | 715 x 420 x 25mm | 24kg |
| Axlemate VWAM40 | 40,000kg x 50kg | 715 x 420 x 25mm | 24kg |
Removable ramps are included with 10,000kg/20,000kg/40,000kg capacities.
Optional ramps are available for 2000kg and 5000kg capacities.
Shipping Information
Shipping to the Scottish Highlands and Islands, Northern Ireland and the Republic, Isle of Wight and the Isle of Man include an additional cost per order based on product weight. Please contact us for details. Call 01296 393133.