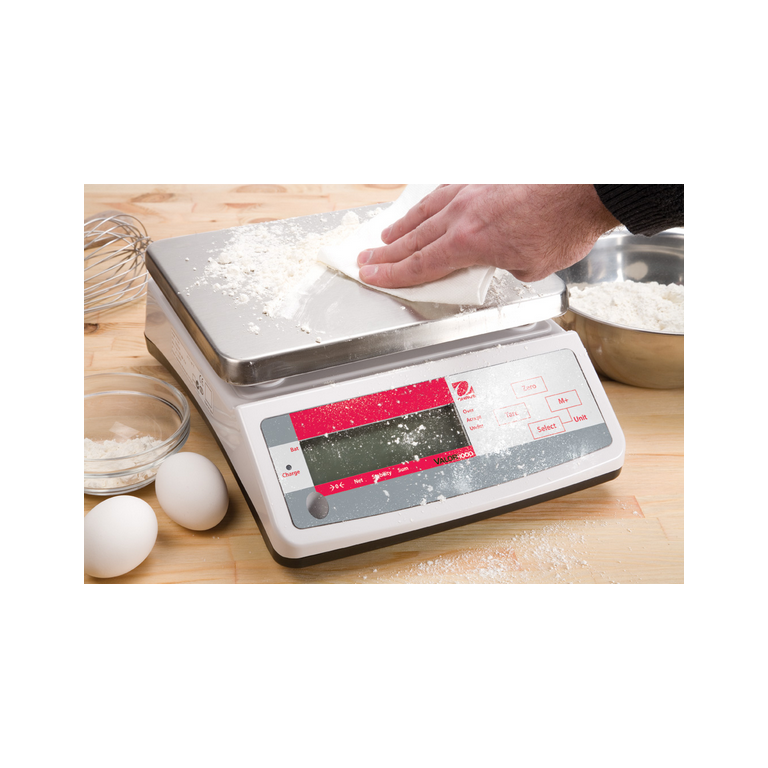 Food Scales
Food Bulk Weighing Scales
Our Best selling Food Scales. Selected from our vast range of scales suitable for Food Preparation i.e. Portioning, Recipes, Ingredient weighing, check-weighing etc. Measure your dry foods and liquid accurately with these desirable scales. Built to withstand the rigours of professional kitchens, catering and commercial food processing applications. All from leading manufacturers and fully guaranteed. Selected below are various popular scales - CLICK on the links below to go to the product page for an additional choice of features, capacities and full details.
Best Selling Portioning Food Scales

Ohaus Scout SKX2202
Large back-lit display for good visability in
low light conditions
;
Ohaus Navigator NV-NV2201
Fast stabilisation
time, ABS housing, stainless weigh pan;
Ohaus Compass CX5200
3 x AA
batteries power
giving up to 1000hours, Display Hold;
Ohaus Valor 4000 V41PWE15T
Waterproof IP68
, Touchless Tare Sensors, supports HACCP;
Ohaus Valor 2000 V22XWE6T
Large red LED display
, AC adaptor or internal rechargeable battery, IP68 design;
Ohaus Valor 1000-V11P15
Budget priced,
ABS housing and stainless steel weigh pan;
A&D EJ-6100
Hygienic and
chemically resistant stainless steel
(SUS304) weighing pan, Operation with either AC adapter or four AA batteries;
A&D-SK-5000WP
washable, water & dust proof
scales rated to IP65 standard with stainless steel housing and large square weighing pan; A&D SJ-5000HS Portable budget priced scales
ideal for food preparation
;
A&D SJ-5001HS
1g increments,
Four weighing units (g, lb, oz and lb-oz).

Best selling Bulk Weighing Scales

Ohaus Defender 2000 D24PE150FL
Stainless weigh plate
, internal rechargeable battery; Ohaus
Defender 3000 Standard-D31P150BL
5 weighing units,
white backlit LED display for easy reading in dim light
;
A&D EM-60KAM
Versatile budget priced
scale,
rotating Indicator
(to improve viewing display from the back or side);
Adam GBK-120
Check weighing with LED limit indicators
, Memory accumulation;
Salter Brecknell S100-75
L
ow cost
general purpose scale,
Large platform
measuring 559 mm x 457mm with mild steel base and stainless steel top plate;
Ohaus Defender 3000 Stainless D32XW60VL
All stainless steel for washdown environments
, IP65 indicator, internal rechargeable battery.
Shipping Information
Shipping to the Scottish Highlands and Islands, Northern Ireland and the Republic, Isle of Wight and the Isle of Man include an additional cost per order based on product weight. Please contact us for details. Call 01296 393133.