Ohaus Defender 2000 Bench Scale
RRP £300.00 | Save £60.00
Item in Stock
---
Click for Scale Selection
Ohaus Defender 2000 bench scales offer
excellent value
and are designed for durability in commercial and industrial weighing applications. Sturdy, welded steel frame with overload protection and polished stainless steel pan. Indicator with tactile keys,
bright red LED display
, ideal for dark environments.
Built-in rechargeable battery
operation or AC mains adaptor, both supplied as standard. Optional
RS232 interface
. 4 bases sizes available (see below for full spec). Designed for dependability and durability at a practical price.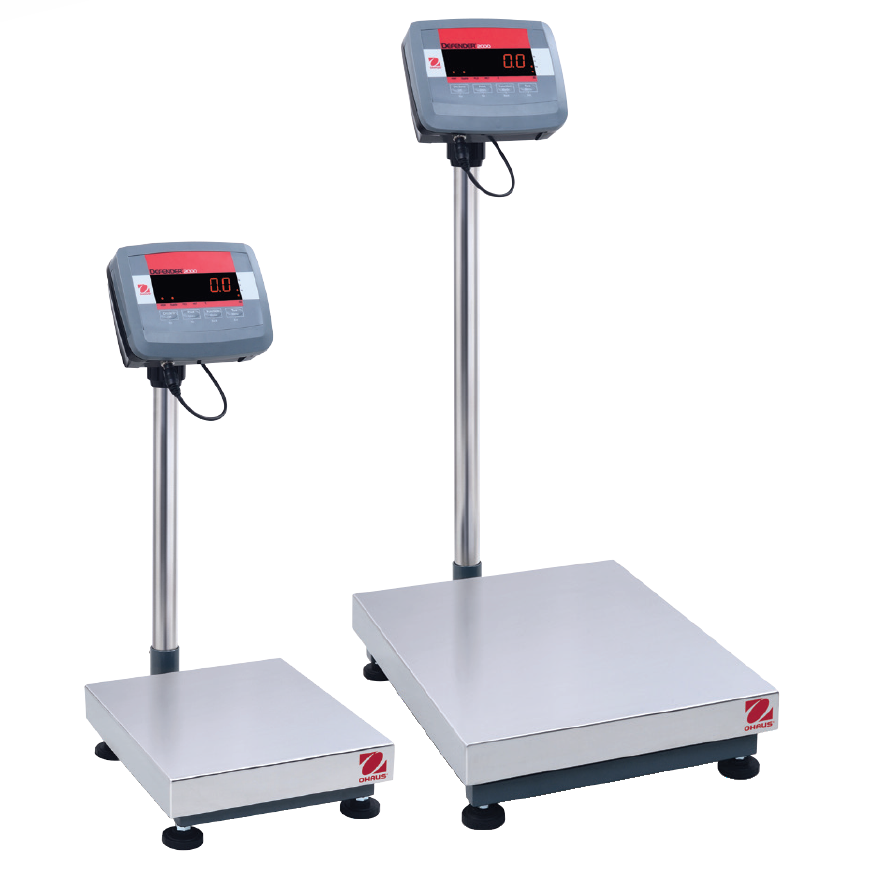 Ohaus Defender 2000 Bench Scales, budget range of floor or table scales at an unbeatable price without compromising on quality. Strong and robust and general purpose scale with internal rechargeable battery. Bright red display, stainless steel top pan for easy cleaning available in three different sizes.
Main Specification:
Four popular capacities (30kg, 60kg, 150kg, 300kg)
4 industry-standard sizes (300 x 350 mm, 400 x 500 mm, 500 x 600 mm and 600 x 800mm)
Polished 430 stainless steel pan with painted carbon steel frame and aluminium alloy IP65 load cell
Column mount welded to frame ensures stability of column and indicator when in use
Indicator features a high-impact durable ABS housing
Indicator is reversible face for either wall, column or table-top mounting
kg, g weighing units
25mm high bright red LED weight display
Optional RS232 for printing and data connection
AC adapter included and internal rechargeable battery (supplied)
Model

Capacity

Div.

Platform

Item No.

D24PE30FR

30kg

5g

300mm x 350mm

Column 500mm

30235922

D24PE60FR

60kg

10g

300mm x 350mm

Column 500mm

30235927

D24PE60FL

60kg

10g

400mm x 500mm

Column 700mm

30235932

D24PE150FL

150kg

20g

400mm x 500mm

Column 700mm

30235937

D24PE150FX

150kg

20g

500mm x 600mm

Column 700mm

30235942

D24PE300FX

300kg

20g

500mm x 600mm

Column 700mm

30235947

D24PE300FV

300kg

20g

600mm x 800mm

Column 1000mm

30223552

D25PE600FV

600kg

100g

600mm x 800mm

Column 1000mm

30235957
Shipping Information
Shipping to the Scottish Highlands and Islands, Northern Ireland and the Republic, Isle of Wight and the Isle of Man include an additional cost per order based on product weight. Please contact us for details. Call 01296 393133.