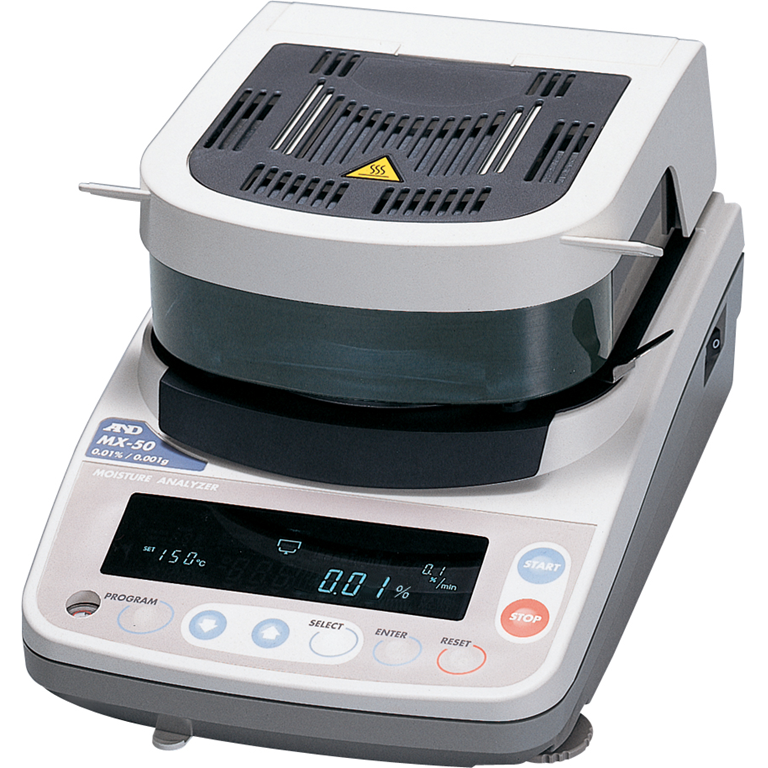 A&D MX-50 Moisture Analyser (51g x 0.001g)
Was £2,394.00
RRP £2,394.00 | Save £699.00
Item in Stock
---
About the A&D MX-50 Moisture Analyser
The A&D M Series Moisture Analysers have
Fast and uniform heating with halogen lamp
. SRA (Secondary Radiation Assist) filter gives shorter measurement time with fast and uniform heating. High repeatability, ultra accurate moisture content determination, high precision weighing of even a small sample. Models - ML-50 51g x 0.005g; MF-50 51g x 0.002g; MX-50 51g x 0.001g; MS-70 71g x 0.1mg.
A&D MX-50 Moisture Analyser
Capacity 51g x 0.001g
Pan Size 85mm
Fast and uniform heating with halogen lamp and uniquely designed "SRA" filter that avoids hot spots
High repeatability with SHS technology (Super Hybrid Sensor)
Sodium Tartrate Dihydrate for accuracy verification
Calibration function for the heating temperature with optional MX/MF-OP-43 (for MS & MX)
Memory function (to be able to save/recall configurations as well as measurement results)
Five measurement programs (standard, automatic, quick, timer and manual mode)
Four heating modes (standard, quick, step and ramp mode) (not ML)
Large and easy to read VFD display
Standard RS-232C interface
Measurement of liquid or solid content


Shipping Information
Shipping to the Scottish Highlands and Islands, Northern Ireland and the Republic, Isle of Wight and the Isle of Man include an additional cost per order based on product weight. Please contact us for details. Call 01296 393133.