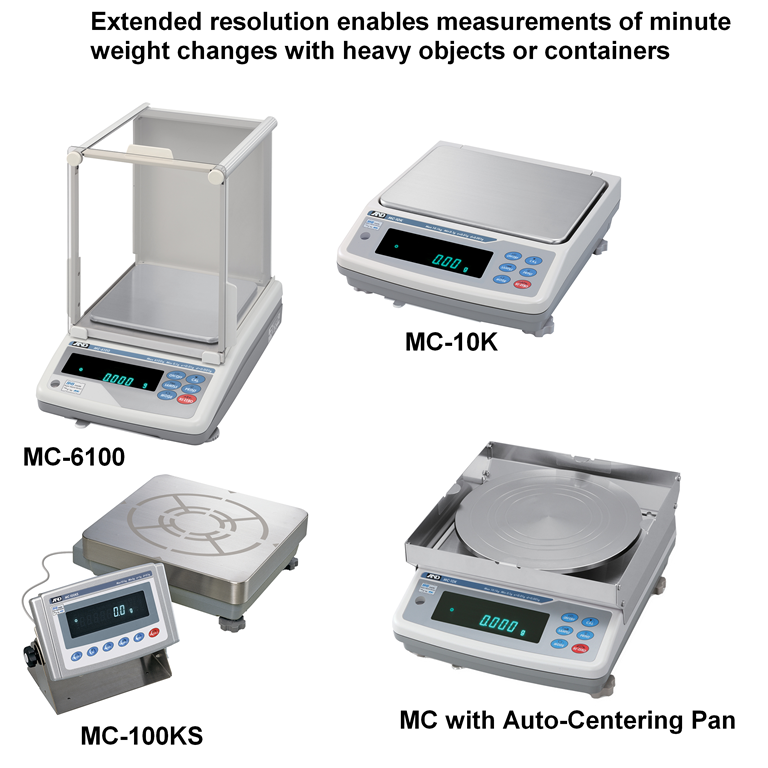 A&D MC Series Mass Comparators
Was £3,881.00
RRP £3,881.00 | Save £986.00
Item in Stock
---
Click for Balance Selection
Click for MC-1000/6100 Accessories
Click for MC-10K/30K Accessories
Click for MC-100KS Accessories
About A&D MC Series Mass Comparators
A&D MC Series Mass Comparators with
extended resolution
enables measurements of minute weight changes with heavy objects or containers. High capacity balances with extra decimal places not found in standard balances. Ideal for calibrating F1 standard weights and changes in liquids, solids or gases. Features stabilizing filter function which helps eradicate errors caused by draughts and vibrations, one touch
internal self calibration
to ensure that environmental changes can be corrected. The Super Hybrid Sensor provides a fast and accurate reading. Multiple weighing units g, oz., lb, lb-oz., troy oz., ct, dwt, grain, and momm. Accessories include self leveling centering pan (see video below) to make readings even more accurate.

A&D MC Series Mass Comparators main features:
Extra decimal place for monitoring fine weight changes with heavy tare weights
Stabilizing Filter to lessen errors due to draft and vibration
Auto-centering pan (optional) to avoid corner-load errors and ensure higher accuracy
Internal calibration mass for simplified calibration of the balance
Management of liquid amounts, powder amounts, gas amounts and production line weighing
Fast stabilization of about 1.5 seconds
GLP/GMP/GCP/ISO compliant output
Large bright vacuum fluorescent display
Multiple weighing units of measurement
Equipped with a glass breeze break as standard for MC-1000/6100
Equipped with a vinyl breeze break as standard for MC-10K/30K
4 years warranty



| Model | Capcity | Div. | Pan Size | Code |
| --- | --- | --- | --- | --- |
| MC-1000 | 1100g | 0.1mg | 128x128mm | MC-1000 |
| MC-6100 | 6100g | 1mg | 165x165mm | MC-6100 |
| MC-10K | 10.1kg | 1mg | 270x210mm | MC-10K |
| MC-30K | 31kg | 10mg | 270x210mm | MC-30K |
| MC-100KS | 101kg | 0.1g | 386x346mm | MC-100KS |
Shipping Information
Shipping to the Scottish Highlands and Islands, Northern Ireland and the Republic, Isle of Wight and the Isle of Man include an additional cost per order based on product weight. Please contact us for details. Call 01296 393133.