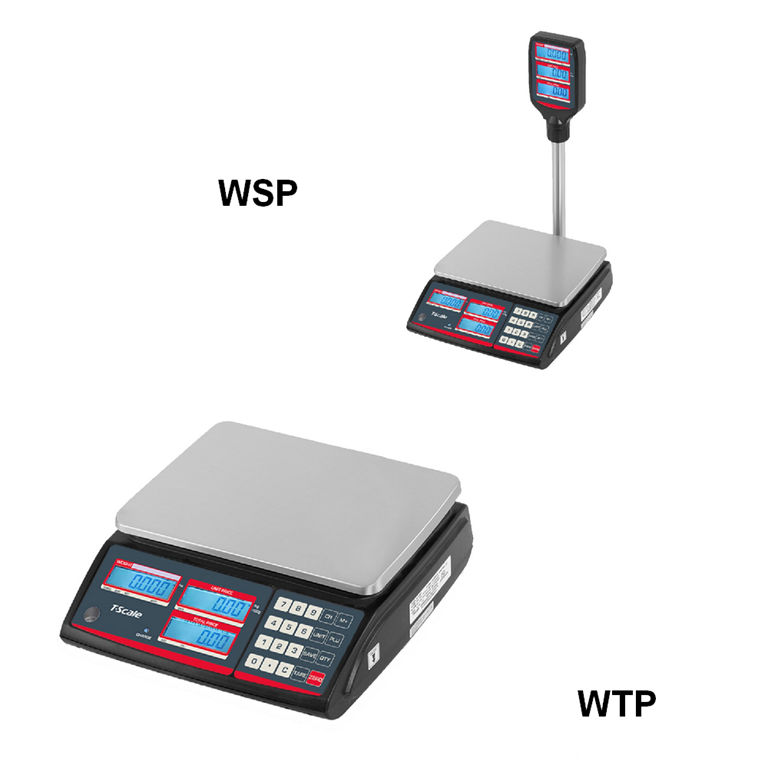 T-Scale WTP & WSP Retail Scales
RRP £115.00 | Save £16.00
Item in Stock
---
The T-Scale WTP and WSP Series Retail Price Computing Scales have Dual weighing range, LCD with white backlit display, showing weight, price per kg/100g & price to pay. Both have standard stainless steel flat plate size (204 x 263mm). The WSP model has a pole mounted display. Both have Mains adaptor 12V500mA with rechargeable battery 6V3.2Ah giving 60 hours continuous use; 20 keys, 9 PLU's. Trade Approved and Legal for Trade with M Sticker attached to the scale for Trading Standards compliance. Stamping fees included.

T-Scale WTP & WSP Retail Scales

Model: WTP-6K-MR Capacity 3/6kg x 1/2g Plate size: 263 x 204mm
(This model has a maximum weighing capacity of 6kg and an accuracy of 1g up to 3kg, then 2g accuracy up to 6kg)

Model: WTP-15K-MR Capacity 6/15kg x 2/5g Plate size: 263 x 204mm
(This model has a maximum weighing capacity of 15kg and an accuracy of 2g up to 6kg, then 5g accuracy up to 15kg)

Model: WSP-6K-MR Capacity 3/6kg x 1/2g Plate size: 263 x 204mm
(This model has a maximum weighing capacity of 6kg and an accuracy of 1g up to 3kg, then 2g accuracy up to 6kg with the display mounted on a pole)

Model: WSP-15K-MR Capacity 6/15kg x 2/5g Plate size: 263 x 204mm
(This model has a maximum weighing capacity of 15kg and an accuracy of 2g up to 6kg, then 5g accuracy up to 15kg with the display mounted on a pole)





---
Oakleyweigh were very helpful when I needed to find trade-approved scales, and I have found the product to be fantastic too. Easy to clean, very accurate, and got Trading Standards off my back!
By Chloe McGill from London on 13th November 2020
Shipping Information
Shipping to the Scottish Highlands and Islands, Northern Ireland and the Republic, Isle of Wight and the Isle of Man include an additional cost per order based on product weight. Please contact us for details. Call 01296 393133.