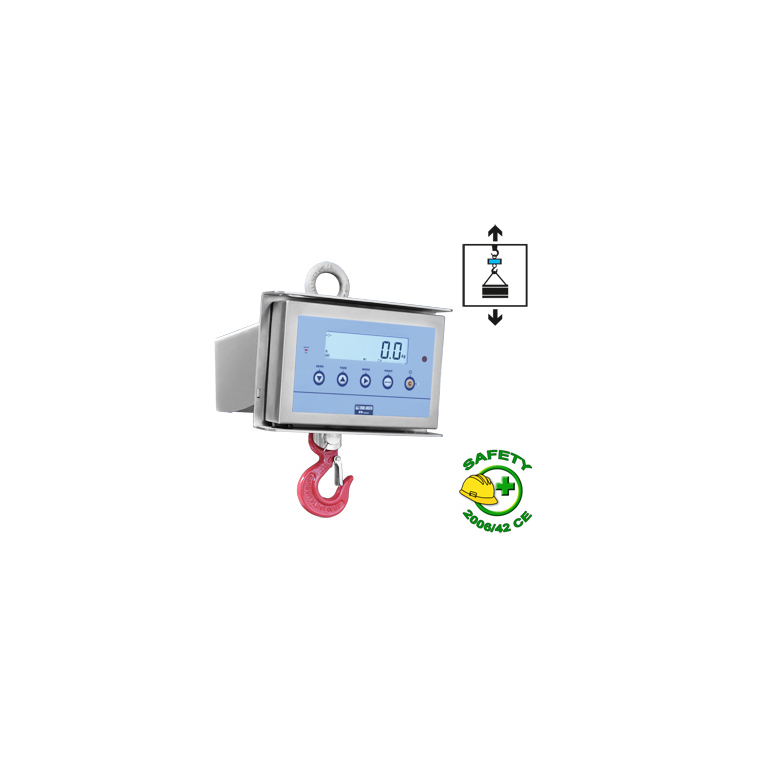 Dini Argeo MCW Waterproof Crane Scale
Dini Argeo MCW Crane Scale Selection


Dini Argeo MCW Waterproof Crane Scaled made from stainless steel and rated IP67 dust and rain resistant for indoor and outdoor use. A full range of models from 300kg through to 1500kg. The display is large backlit 25mm LCD digits easily seen in all lighting conditions. Remote control is standard up to 8m distance. Power is supplied from an internal rechargeable hermetically sealed battery with a 40 hour operating time. Featuring Peak; Hold; lb/kg conversion etc.
Dini Argeo MCW Waterproof Crane scale details -
Large backlit 25mm LCD display easily visible in all lighting conditions and also with low temperatures.
Fitted with approved upper galvanized shackle and approved bottom swivelling hook (for the capacities from 150 to 6500 kg).
Precision: +/- 0.03% F.S.
Waterproof keyboard with 5 keys: ZERO, AUTOMATIC TARE, MODE, PRINT, and ON/OFF.
Function mode configurable as PEAK (maximum value read), HOLD (blocking the weight viewed), Weighs accumulation, lb/kg conversion (for other available functions see DFW indicator).
IP67 STAINLESS STEEL case (dust and rain).
Fitted with remote control for up to a 8 m distance. The remote control may be configured by the customer as automatic tare only, or as a remote keypad with 4 keys.
Rechargeable hermetically sealed battery with a 40-hour operating time.
Digital set-up and calibration programmable directly from keyboard using a sample weight.
Operating temperature: -10 /+40 ºC.
Programmable digital filter and auto switch-off.
Equipped with 230Vac 50 Hz battery charger.
Second extracable battery options - MCWBK for MCW models. MCWKBK for MCW***R2 models.



Code

Max




(kg)

d




(kg)

d* HR




(kg)

CE-M




3000e (kg)

MCW300R2-1
300
0,1
0,05
MCW600R2-1
600
0,2
0,1
MCW1500R2-1
1500
0,5
0,2
MCW3000
3000
1
0,5
MCW150MR2-1
150
0,05
MCW300MR2-1
300
0,1
MCW600MR2-1
600
0,2
MCW1500MR2-1
1500
0,5
Trade Approved
(*) The HR division is obtainable only with the relative EHR option
Shipping Information
Shipping to the Scottish Highlands and Islands, Northern Ireland and the Republic, Isle of Wight and the Isle of Man include an additional cost per order based on product weight. Please contact us for details. Call 01296 393133.