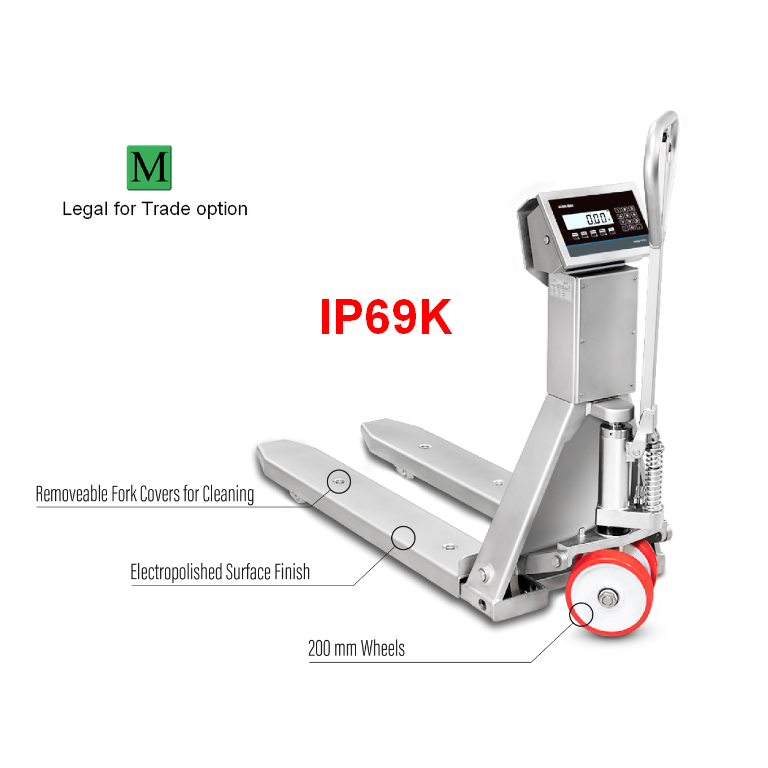 {"sku":"Dini Argeo TPWI Hygienx","name":"Dini Argeo TPWI HYGIENX Stainless Steel Pallet Truck Scales","price":"0.00","qty":0,"category1":"industry-scales","category2":""}
Dini Argeo TPWI HYGIENX Stainless Steel Pallet Truck Scales
Was £7,452.00 (ex. VAT)
Save £1,242.00
Item in Stock
---
Click for Scale Selection
Add Calibration Certificate
About the Dini Argeo TPWI HYGIENX Stainless Pallet Truck Scales
The Dini Argeo
TPWI HYGIENX
Pallet Truck Scales are
High-end pallet truck designed for the food, chemical and pharmaceutical industries and for wet working environments where high standards of hygiene are required.
Resistant to washing with high-pressure hot water jets. Built-in rechargeable battery with long battery life of up to 100 hours.The indicator is housed within a stainless steel IP69K enclosure and features a large backlit 25mm LCD display which is easily seen even in poor lighting conditions. Lowered profile forks, only 85 mm. Fork dimensions 1180 x 550 x 85 mm. Lifting height 200 mm. Weight approx. 135 kg (without packaging). High thickness stainless steel AISI 304 supporting structure. Built with 4 IP69K STAINLESS STEEL load cells. Capacities 1000/2000kg x 0.2/0.5/ or optional Trade Approved version 1000/2000 x 0.5/1kg.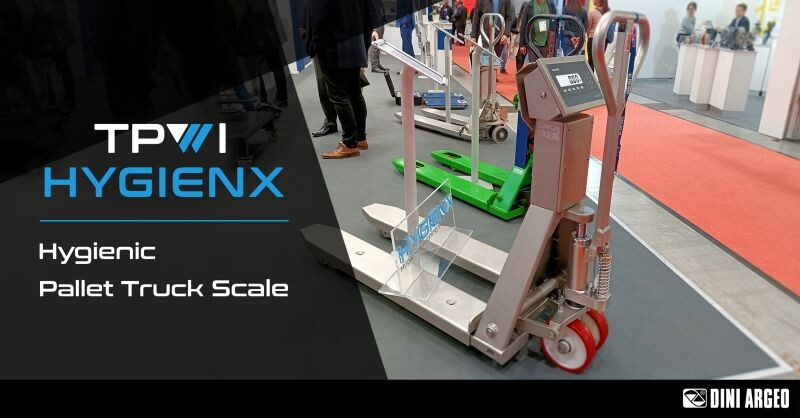 Dini Argeo TPWI HYGIENX Stainless Pallet Truck Scales technical details:

- High resolution display x 10
- Net/Gross
- Lb to Kg converter
- Free conversion factor (for meter and litre counters etc.)
- Weight totalizer
- Formulation
- +/- controller with quick target and threshold input
- Percentage weighing
- Percentage batching with programmable target
- Piece counter
- Alibi memory (optional)


Code
Max
(kg)
d
(kg)
CE-M
3000e (kg)
Weight approx
(kg)

TPWI-HGX

1000 / 2000

0.2 / 0.5

135

TPWIM-HGX

1000 / 2000

0.5 / 1

135
Shipping Information
Shipping to the Scottish Highlands and Islands, Northern Ireland and the Republic, Isle of Wight and the Isle of Man include an additional cost per order based on product weight. Please contact us for details. Call 01296 393133.