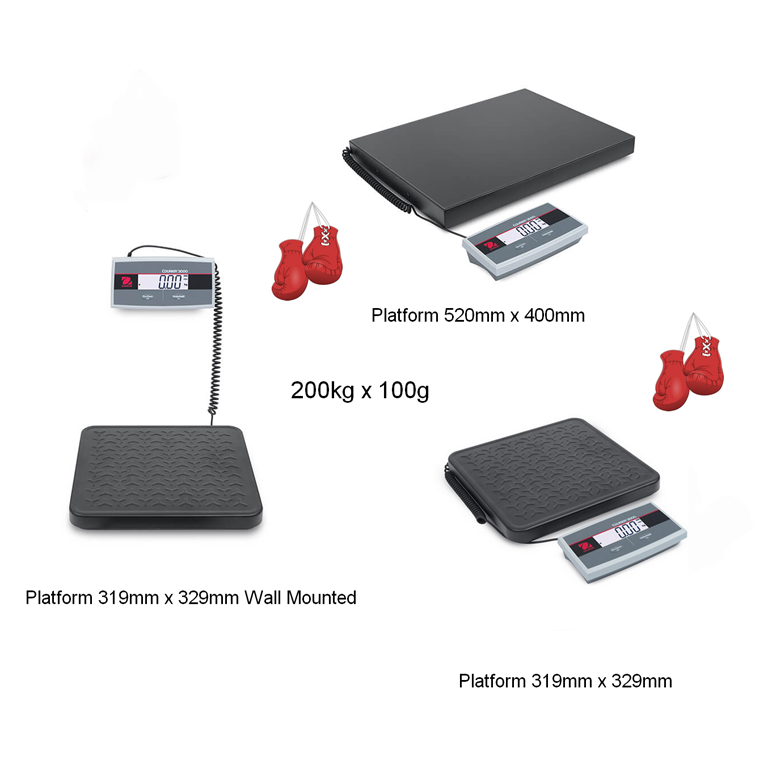 {"sku":"Ohaus Courier 3000 Boxing","name":"Professional Boxing Weighing Scale","price":"0.00","qty":0,"category1":"industry-scales","category2":""}
Professional Boxing Weighing Scale
Was £160.00 (ex. VAT)
Save £40.00
Item in Stock
---
Traceable Certificate of Calibration
About the Professional Boxing Weighing Scales
Professional 3000 Boxing Weighing Scales from Oakleyweigh replace the Professional SD models. They are accurate scales for
weighing contenders for tournaments
. Two models are available with two different platform sizes -
319 x 329mm (S) and 520mm x 400mm (L). Both have a maximum weighing capacity of
200kg and accurate to 100g
. Powered via AC adapter supplied, or 3 AA type batteries (optional) giving 100 hours of use. Platform is linked to a weighing indicator which can be fixed to a wall or free standing on a bench. Simple to use with two button operation. For extra traceability select a Calibration Certificate. The
Calibration Certificate
ensures that the boxing scale has been checked and calibrated and is valid 12 months.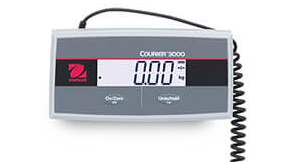 Professional Boxing Weighing Scale features -
2 platform sizes: 319 x 329 mm and 520 x 400 mm
ABS plastic indicator housing with reinforced ribs
Universal table/wall mounting brackets included
Flexible coiled cable, extendable
Painted steel base, 319 x 329 models with embossed tread and 520mm x 400mm smooth platform.
Rubber feet
LCD with fast weight display in kg or lb
Simple 2 function raised tactile keys
AC adapter or 100 hour 3 AA battery operation (batteries not supplied) with Auto-shut off feature
---
Well made high-quality scales. Clear digital display.
By Marc Wainman from Bolton on 7th November 2022
---
I have used Oakley scsles for years and as always a very good product needed for purpose
By George from Hookwood Surrey on 2nd April 2022
---
My lad has just started boxing and we were recommended this scale for checking his weight for tournaments. It's light, easy to use and was delivered in 2 days.
By Gary Anderson from Hull on 30th March 2022
---
We ordered the Ohaus Boxing Scales from your company not knowing anything about the product but we were in need of a professional boxing scales and liked the look of the product on your web site so we decided to go ahead ...and order the scales. Having used different scales in the past we were looking for a portable scale that we could take to events and we also needed a very accurate scale for the type of competition we were holding. We found the Ohaus Boxing Scales to be very accurate and portable, exactly what we were looking for, a great product at a great price and the service from your company was excellent with the purchase arriving before due date. More
By Albert Ross from Fraserburgh Fitness Center on 12nd March 2021
---
Excellent product and service
As a coach at an amateur boxing club, we needed a scale that was robust and that could be used on a daily basis to check the boxers weight. After doing some research I decided to purchase the Professional Boxing Weighing S...cales from Oakley Weigh a specialist established company. The scales are easy to use and priced very well compared to other scales that are available. The price suited our budget. The service was excellent as I spoke to a member of staff who was only to happy and patient to answer all my questions regarding the scales, cost, delivery and warranty registration. Keep up the good work ! More
By Tariq from Greenford on 10th February 2021
Shipping Information
Shipping to the Scottish Highlands and Islands, Northern Ireland and the Republic, Isle of Wight and the Isle of Man include an additional cost per order based on product weight. Please contact us for details. Call 01296 393133.