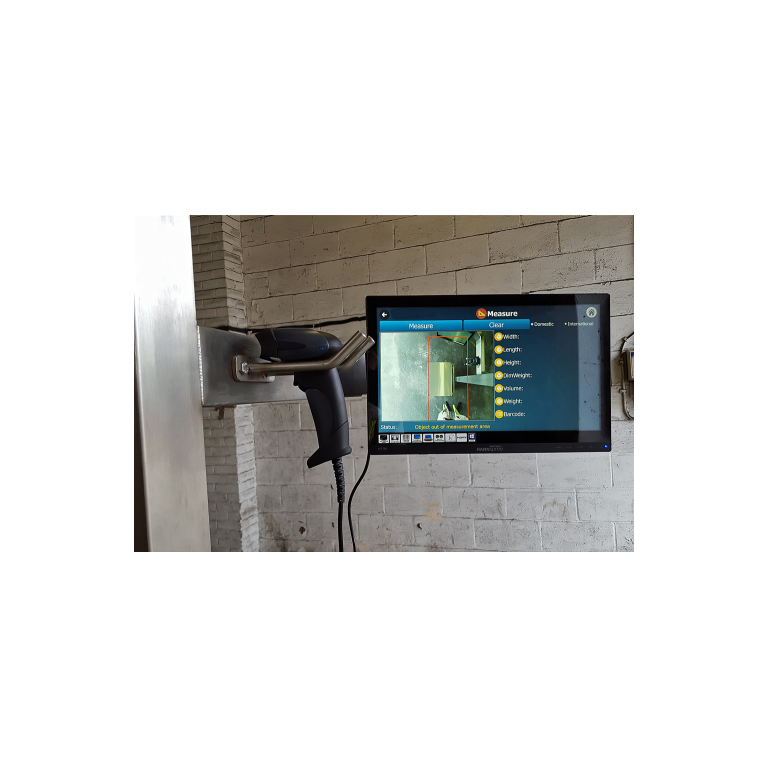 Resolution 3 Dimensioner & Weighing Station


SELF-CONTAINED DIMENSIONING AND WEIGHING STATION - CALCULATE VOLUMETRIC WEIGHT IN A FRACTION OF A SECOND
Resolution 3 is a low cost/high quality dimensioning and weighing system. Designed to calculate dimensions, volume, weight and volumetric/dimensional weight in a fraction of a second. Construction: robust stainless steel frame with an 800mm x 800mm stainless steel weighing platform. Four swivelling locking castors allow it to be easily moved to other locations. Easy to use, dimensioning can be triggered at the press of a button or by scanning a barcode, the data and image is stored and optionally sent via Ethernet, RS232 serial or Wifi to a server or 3rd party software.
All measurement data and images are stored on the Resolution One Camera and can be: viewed locally on the Resolution 15" display; remotely viewed and downloaded from any PC or mobile device with a web browser using the built in web service; sent via Ethernet, WiFi or RS232 to a PC or server in Excel file format.
PRICE INCLUDES: Resolution One Dimensioner and Software, 15.6 inch Touch Screen, 800mm x 800mm Stainless Weighing Scale, Portable Stainless Frame on Wheels, Power Adaptors and Cabling. Options include: Barcode Scanner and Zebra Barcode Label Printer.
Other capacities available CALL 01296 393133

Resolution 3 Dimensioner & Weighing Station
Measuring Capability:Regular or Irregular Non-transparent Objects
Min. Measurable Object Dimensions: 2cm x 2cm x 2cm (can be adapted to customer needs)
Max. Measurable Object Dimensions: 200cm x 200cm x 200cm (can be adapted to customer needs)
Measurement Accuracy: 0.5cm
Max. Conveyor Speed: 1.5m/s
Max Weight: 80kg (can be adapted to customer needs)
Barcode Reading: Any type - 1D or 2D
Integration Interface: Access via Web Browser over Ethernet or Excel-readable (XML) File Output via Ethernet or RS232. Cloud storage (optional).
Data Output: Max. Width, Max. Length, Max. Height, Weight, Barcode, DimWeight, Image
Operating Current: 15A (max)
Shipping Information
Shipping to the Scottish Highlands and Islands, Northern Ireland and the Republic, Isle of Wight and the Isle of Man include an additional cost per order based on product weight. Please contact us for details. Call 01296 393133.