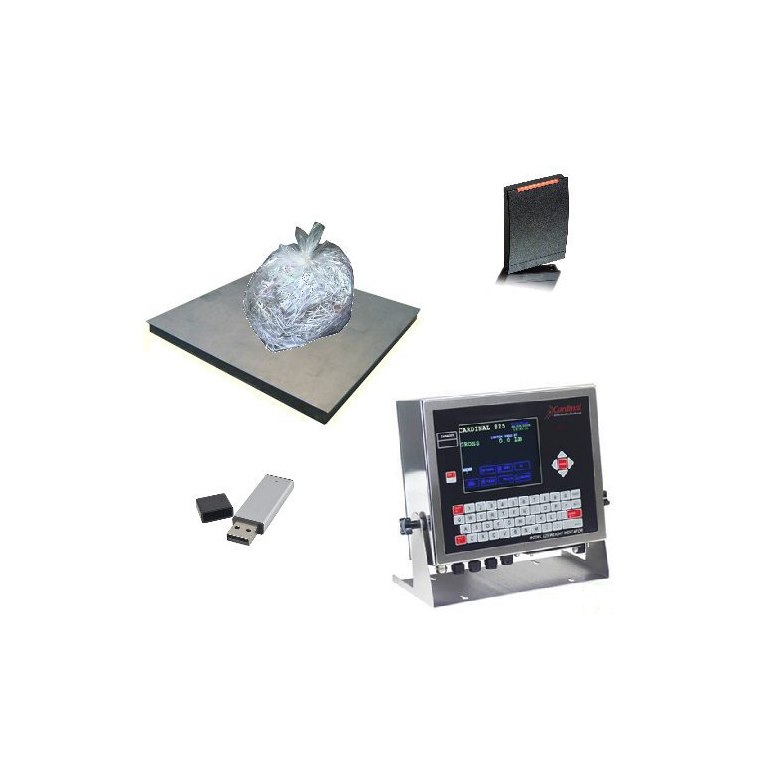 Waste Management Recycling Scale
About the Oakleyweigh Waste Management & Recycling System
Our custom written
Waste Weighing Software
can be used with a wide range of standard and bespoke weighing platforms. You can monitor waste to be recycled. This means operations collecting and charging, plus those sending and being charged can process the information stored along with name, time, date, weight, cost and type of recycling weighed.

Full instructions for set up supplied with system.
Waste Weighing System for monitoring waste sent for recycling specifications -
Cardinal 825 display unit housed within a stainless enclosure, complete with wall bracket.
640 x 480 pixel backlit full colour touchscreen display
Alphernumeric keypad and navigation keys
Date , Time and Gross Weight shown on top of screen
Custom written waste weighing software
USB port to allow weighing transactions to be saved to data stick
Full text and image prompts for user
Card reader.
VW1010S Stainless Platform with smooth top plate
Dimensions: 1000mm x 1000mm
Capacity: 600kg x 0.2kg
Four IP68 rated load cells
Other platform sizes and capacities available POA.
Shipping Information
Shipping to the Scottish Highlands and Islands, Northern Ireland and the Republic, Isle of Wight and the Isle of Man include an additional cost per order based on product weight. Please contact us for details. Call 01296 393133.