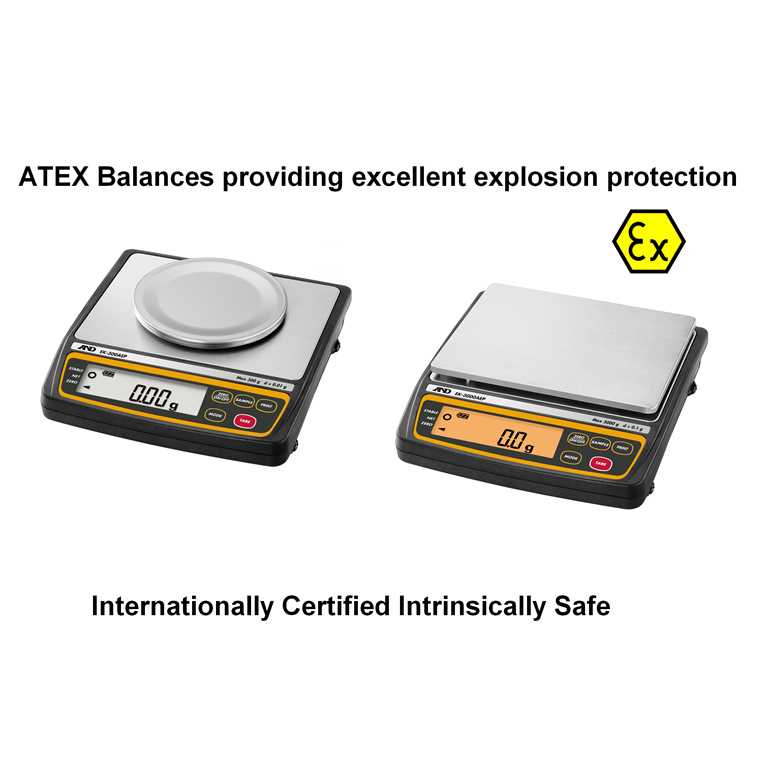 A&D EK-AEP Intrinsically Safe Balances
Was £1,185.00
Item in Stock
---
Click for Balance Selection
About the A&D EK-AEP Intrinsically Safe Balances
A&D EK-AEP Intrinsically safe Balance is affordable and provides excellent explosion protection. Compact, lightweight and economical, bringing ease and security to anyone who needs to perform precise weight measurement in potentially explosive and hazardous environments. Powered with 4 x AA batteries for 250 hours operation making this balance portable and ideal for areas where mains power is a problem with Zone 0, 1 and 2 protection. The EK-AEP series is equipped with an optical connector from which it can output weighing results to a device in a distant safe area via optical fibre cable and an AD-1611 optical communication adapter which enables safe data output from an explosion-protected balance/scale installed in an EX-hazardous area.

A&D EK-AEP Intrinsically Safe Balance features
Powered by 4 x AA Batteries for up to 250 hours use *2

Easy-to-read LCD display with backlight (16 mm character height)
Auto power OFF function to save battery power
Hygienic and chemically resistant stainless steel (SUS304) weighing pan
Multiple weighing units: g, oz, lb, ozt, ct, mom, dwt, gr, N, in addition to SG (specific gravity)*3
Counting mode with Automatic Counting Accuracy Improvement (ACAI) functionality
Percent mode function for target weighing, checking the sample variation, etc.
Comparator function for faster and more accurate filling, packing, sorting, etc.
Response characteristics adjustable depending on the degree of drafts and vibrations at the location
Security ring for wire-locking the balance to prevent theft
*1 Both sold separately
*2 To be used only with four DURACELL AA alkaline MN1500 LR6, ENERGIZER AA E91 alkaline LR6 AM3, or Panasonic AA alkaline LR6 (XJ) 1.5V batteries.
*3 Either tl (tael) or tol (tola) can be added upon request.
Weighing Capacity
(Max) (g)

Readability
(d) g

(mm)

EK-300AEP

300

0.01

110 Ø

EK-3000AEP

3000

0.1

133 x 170

EK-12KAEP

12,000

1

133 x 170
Shipping Information
Shipping to the Scottish Highlands and Islands, Northern Ireland and the Republic, Isle of Wight and the Isle of Man include an additional cost per order based on product weight. Please contact us for details. Call 01296 393133.