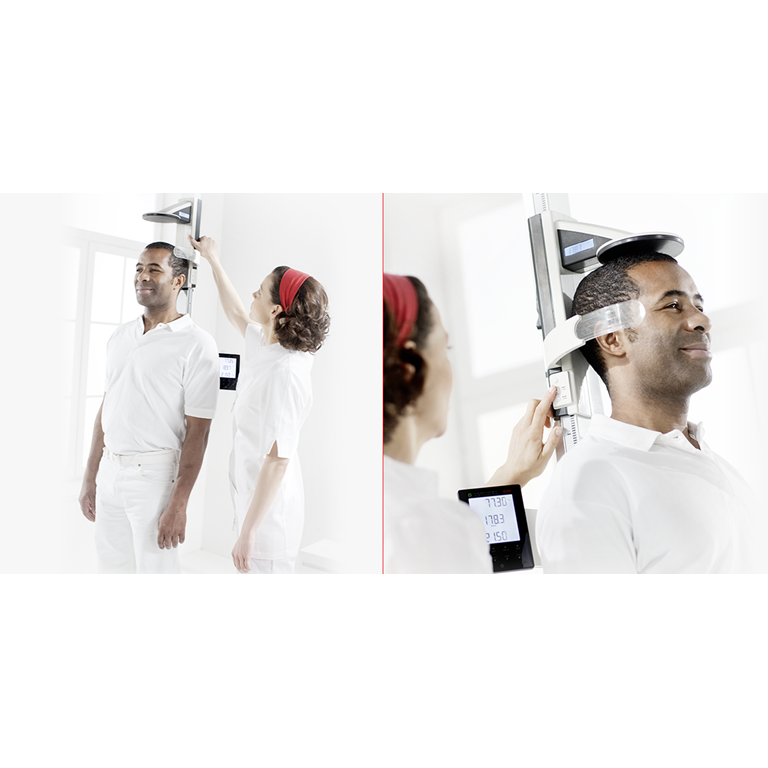 Seca 285 Wireless Measuring Station
RRP £1,149.00 | Save £154.00
Item in Stock
---
Seca 285 wireless measuring station weighs and measures at the same time. The high capacity scale can weigh up to 300kg with a fine 50g graduation. Two clear displays, one is for a direct read-out of height from the headpiece and the other, a three-line multi-function touch display, shows weight, height and the automatically calculated BMI. Its operation is easy to use and the white backlit display. This complete measuring station has two displays, one for direct reading of height from the headpiece and the other is a mulit-functional touch screen display which shows the patients height, weight and BMI. Weighing range is 300kg with an accuracy of 50g up to 150kg and 100g up to 300kg making this measuring station ideal for everyone from small children to bariatric patients.


Seca 285 wireless measuring station for weight and height.
Capacity: 300 kg
Measuring range: 30 - 220 cm
Graduation Weight: 50 g < 150 kg > 100 g
Graduation Length: 1 mm
Weight: 16 kg
Power supply: Batteries / Power Adaptor
Dimensions: 434 x 2.394 x 466 mm / 430 x 60 x 365 mm dimensions tray
Functions: damping / PRINT/Auto-PRINT / CLEAR / Patient data input / Auto-CLEAR / Automatic weighing range switch-over / User defined zero setting / SEND/Auto-SEND / Calibration/automatic calibration / RESET / Acoustic signals can be activated / HOLD / BMI / Auto-BMI / Auto-HOLD / Automatic switch-off / Transport castors / TARE / Mother/child-function / Pre-TARE
Shipping Information
Shipping to the Scottish Highlands and Islands, Northern Ireland and the Republic, Isle of Wight and the Isle of Man include an additional cost per order based on product weight. Please contact us for details. Call 01296 393133.