Straightpoint Cablesafe Rope Tension Meter
RRP £2,117.00 | Save £265.00
Item in Stock
---
Click for Meter Selection
About the Straightpoint Cablesafe Rope Tension Meter
The Straightpoint CableSafe (Crosby no. 2789219) is the continued evolution of SP's running line tensiometers. Compatible with a wide range of rope and electrical cable diameters – 4-30mm.
When used in the field, it will allow the user to monitor tension with exceedingly high levels of accuracy, which ensures that rope/cables do not become overstretched or break.
Ideal for the following applications:
Measure tension when pulling electrical cables – protect against fractures or elongation
Measuring tension on synthetic rope when erecting delicate structures using gin poles and capstan winch.
Another example of best use is during the installation of cell phone towers or similar delicate structures. You will be able to use the product to help ensure structure-to-ground ropes, connected to a gin pole and pully system, do not exceed maximum tension whilst lifting sections of the tower to the top. There can be the possibility of the rope becoming snagged and cause greater tension to be loaded upon the system. With heavy materials being lifted to great heights; this would create a major safety hazard leading to a catastrophic failure with the endangerment of lives. Avoid the unknown through accurate monitoring, especially when risks are high. The five wheel design and gravity catches with top sheave pins allows for fast and simple rope attachment setup. The accuracy is also improved over three wheel alternatives. When used with a cable/rope pulling device you can remotely monitor the tension on the line using your smart handheld device via a Bluetooth connection*. You will be able to locate yourself up to 100m/328ft away from the Cable Safe to allow you to survey job progress from a distance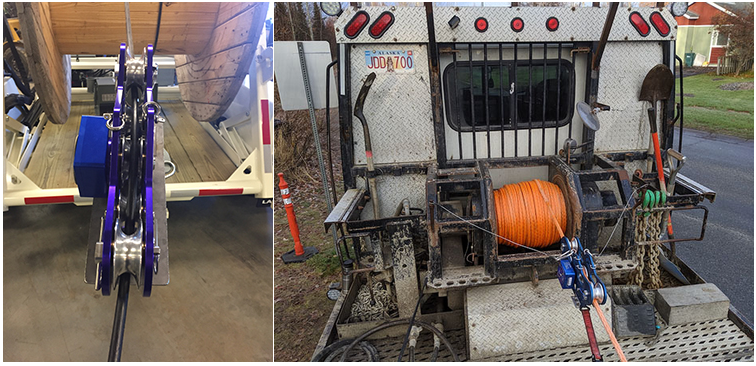 Straightpoint CableSafe:
FEATURES
Compatible with a wide range of rope diameters – 4-30mm
Rapid tension force measurement - Up to 600m per minute
Able to used in all weather and air quality conditions
Easy to install and replace batteries (4 x AA standard Alkaline)
Fully constructed from light and durable brushed Anodised Aluminium
Five wheel design improving accuracy (clear anodised)
Linchpins are fitted to the top sheave pins make wire rope installation quick and simple
IP67 ingress protection / NEMA 6 – heavy protection against dust and rain
Shipping Information
Shipping to the Scottish Highlands and Islands, Northern Ireland and the Republic, Isle of Wight and the Isle of Man include an additional cost per order based on product weight. Please contact us for details. Call 01296 393133.